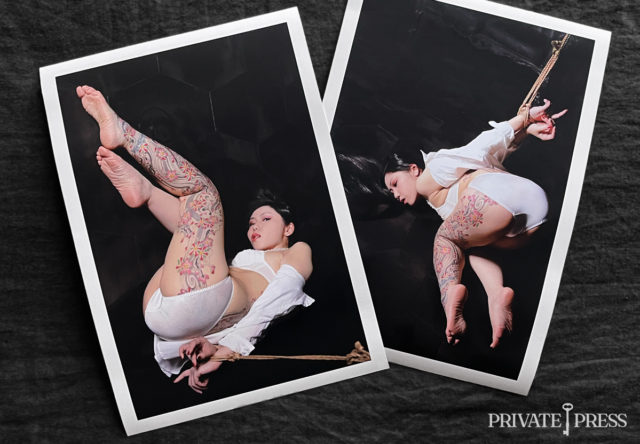 Japanese domina, murasaki Haruan, holds a highly regarded reputation as a teacher of traditional yukimura style kinbaku. Her photography, which is presented in collaboration with the renowned Japanese shibari model Shizuki iroha, is a testament to her exceptional skills in the craft. This collaboration offers fans of Kinbaku a unique opportunity to admire the beauty and elegance of Murasaki's work with Iroha.
Private Press is dedicated to promoting the art of Kinbaku through exceptional printing services. They offer custom printing of exhibition quality, as well as a carefully curated selection of limited edition prints. Private Press is honored to collaborate with Murasaki Haruan on this special series in support of bringing her teachings of Yukimura style to The US in the future.
Don't miss the chance to experience the exceptional talent of Japanese domina, Murasaki Haruan. Read more about her art and this special collaboration below.
Purchase these limited edition prints on PrivatePressArt.com


The Story of working with Shizuki Iroha
We got to know each other as a model and a student under Yukimura Sensei. Before his death, we were simply one of his models and one of his students, but after he passed away, there were not many models who came forward to model for the Yukimura ryu and to make efforts to keep it alive.
However, Iroha came forward to help keep the Yukimura ryu alive.
It was at the first workshop abroad after Yukimura Sensei's death in 2017 that we developed a strong relationship of trust. Zetsu (Haru Yutaka), who teaches Yukimura-ryu in Los Angeles, invited me and Iroha to Los Angeles and we spent a week together. On the last day, I tied Iroha up as a demonstration. After I untied her, she said, "Now I know what kind of person Murasaki-san is."
Since then, we have continued to build a relationship of trust. I also feel the strength of women in Iroha and the female models. I feel that the female models I know have a very strong core even when they are tied up, and have the strength to take all of their strength and heart to the person they are tied up with or to the person watching them. They are never objects to be enjoyed as abused women!
And this shoot was done with the theme of a single rope. I wanted to bring out Iroha's beauty and strength as a woman simply with just a single rope.
–Murasaki Haruan