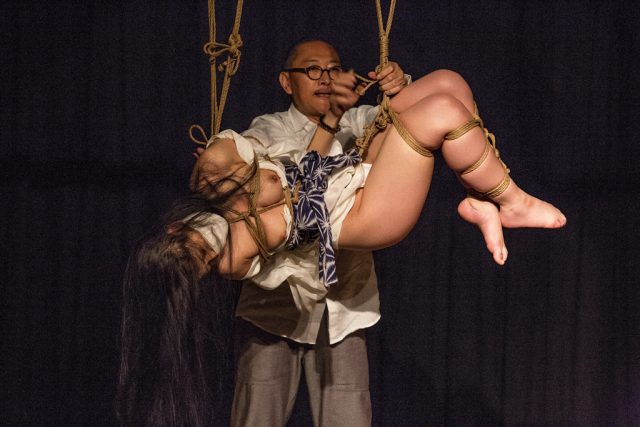 Baton De Berger is proud to announce the second in our series of Advanced kinbaku workshops with the Japanese Kinbakushi (masters of the craft)!
The grand master Akira Naka (https://twitter.com/nawanaka1mon) will be traveling to Baltimore with the incomparable Iroha Shizuki (https://twitter.com/IROHA_SHIZUKI) for a Friday evening performance at the Connections play party, a 2-day advanced kinbaku workshop, and a private dinner. This is Akira Naka's only stop on this trip, and only planned trip to the US.
Tickets to the performance at the Connections play party at Charm City Play Space (CCPS) are available with reserved seating, and general admission tickets will be sold separately at CCPS at the door at the same price. RSVP on FetLife (https://fetlife.com/events/360951).
The 2-day advanced kinbaku workshop will take place at CCPS, 10AM-6PM with lunch provided. There is a cap on the number of attendees, and all participants will be vetted so that everybody can get the most from this workshop.
Based on feedback from previous events, we are working to have multiple translators available, and a dedicated photographer/videographer for the lessons so participants can focus on learning. Individual photography of your ties will be allowed.
There will be a private dinner on Saturday night, with very limited availability. You must attend the workshop to attend the dinner. We will host 3 couples at Chateau Br'oxy with a Translator to give them the opportunity to meet and talk with Naka sensei and Shizuki san. Don't miss this chance to learn the history of kinbaku, or to talk about posing, or just to see Sukebi Naka.
Inquire with Hammer about scheduling 1:1 private lessons available Friday, October 9th and Monday, October 12th, to be taken at Chateau Br'oxy. The cost is $300 for a 2 hour lesson, paid in cash at the time of the lesson.
Inquire with Hammer if you are an out of town guest, and would like a hotel recommendation.
About Akira Naka:
Born in 1959, Akira Naka first became aware of the world of Japanese bondage at the age of 30, when he discovered the study class (commonly known as 'Kinbiken') of top master Chimuo Nureki. The moment he watched the bondage master at work, he found himself drawn in deeper and deeper by the fascinating sensuality until he had an epiphany -This is what he wanted to dedicate his life to. He enrolled immediately.
Ever since that day, Naka has been dedicating himself to follow the path of master Nureki.
He's committed himself to the precision and accuracy of this formal hanging, tightly knit style of bondage.
Naka has also been evolving his own unique offshoot, called the 'Naka-Ryu' style, intended to break new ground in the bondage of beauty and torture. For this reason, he calls it 'Aesthetic Torture Bondage' (MURU-ZOU) and in March of 2008, he founded the 'Muru-Zou Group – Akira Naka Bondage Association', which has been further evolving and deepening through it's comfortable live shows.
Naka often works with the film companies CineMagic and Dogma, where he collaborates with famed director Tohjiro. In art, he works on the 'Nawa-Etsu' series with the 'Muru-Zou' group while in the world of photography he works with bondage photographer Norio Sugiura. He also regularly does live performances.
iroha Shizuki:
Iroha began her career as an AV actress in 2008, and in 2011 began modeling. In 2012, She began to work and travel with Akira Naka as a live bondage partner, and model for his Kinbaku.