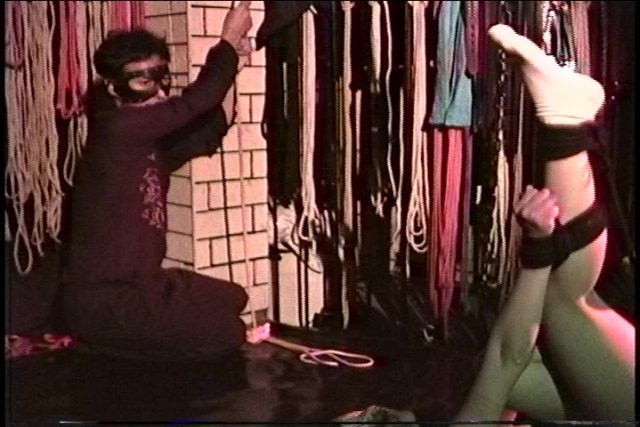 When people think of kinbaku, one of the first things they picture is the rope.  The tradition of using natural fiber rope, asanawa, dates back to the origins of hojojutsu and hemp or jute rope was the material of choice for arresting rope and used for torture ties in the Edo period.
Today, most people use jute rope, 5mm or 6mm in width cut into 7m or 8m lengths.  While jute has some amazing qualities that make it incredibly useful for kinbaku, it is not the only type of rope used for Japanese bondage.  It is arguably also not the most common, at least from one particular point of view.
While most bakushi today use traditional asanawa and while some very important figures in the history of Japanese rope bondage always have (such as Nureki Chimou and yukimura Haruki), there are a few very important exceptions.  The reason they are important is because collectively, they are probably responsible for more representations of rope bondage in Japan than any other bakushi and all of them used something other than asanawa, sometimes exclusively.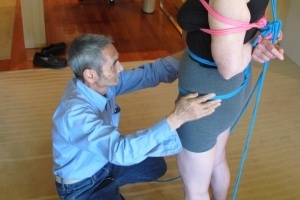 Urado Hiroshi, the primary rigger for Nikkatsu Studios in the 1970s, has had his rope work seen by tens of millions of people, through a series of incredibly successful films, including some of Nikkatsu's biggest box office features. Urado san used cotton rope to tie his models, including the legendary Naomi Tani.  The rope he uses is called "honey rope" in Japan and is available from a particular fabric shop in Shinjuku.  The cotton rope, he explained, is more comfortable for tying actresses and models who may not enjoy rope and who need to be tied in a more gentle way.  Regardless of the type of rope, Urado performed some amazing kinbaku, including 50 foot high suspensions and tying models to horses, requiring them to maintain their position at a full gallop.
Even with experienced rope bottoms and enthusiasts, Urado san prefers cotton rope and still ties with it to this day.
Those not watching movies in that generation may well have been at one of the early "stage shows" watching Osada Eikichi, the father of the modern kinbaku show, perform.  Known as "the flying rope man" his shows were incredibly popular and ushered in an entire generation of performance at underground SM clubs in Japan.  Though few have seen his work, many know his name (in part as the sensei of Osada Steve from whom Steve gained his stage name).  What people may not know is that Osada Eikichi also did not use asanawa, opting instead for heavy cotton rope, thicker than 6mm and in 10m to 11m lengths.
One of the most famous and well known bakushi in the world of SM and director and rigger for hundreds of videos, Shiko Shima,  is also well known for using heavy cotton rope for his style of bondage.  His videos tend toward heavy sadistic play and he is known as the first bakushi to engage in needle play (at least in stage or in videos).
Shiko Shima's rope is very traditional in terms of patterns and design but uses cotton rope almost exclusively.
Finally, the name on the list which may surprise people the most:  akechi denki.
While being known for his amazing rope work using asanawa, some of his early performances (such as this set from 1990) feature him following much more in line with Osada Eikichi, using heavy cotton rope as well as heavy metal hardware and employing many techniques from Osada Eikichi's style.
Looking back through the older archives, particularly in the 1950s and 1960s, you can find countless examples of different rope being used (straw, cotton, hemp) and even using cloth and part of the kimono for bondage, creating beautiful works of art.
Today's modern devotion to asanawa as the "only rope to use" may have great value in practical application, but as a matter of history, there is little evidence to suggest that the jute we tie with today has any special place in the history of kinbaku or its evolution.