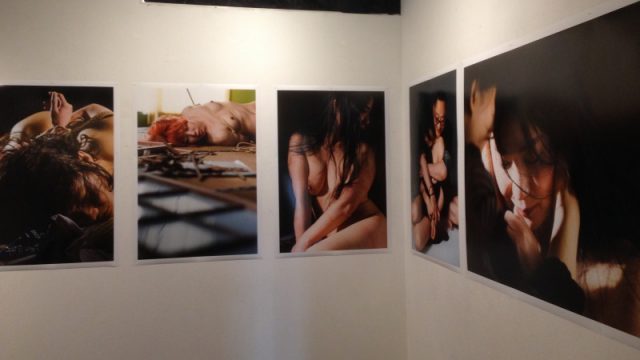 I visited the 'kinbaku Shashuu' photo exhibition on the opening day, held at Gallery ShinjukuZa in Tokyo October 27th to November 1st 2015. I have never seen such enlarged Kinbaku photos with this superior quality before.
Kinbaku Shashuu is a project led by Kasumi Hourai san, and realized with crowd funding. Photos of Kinbaku made by three Bakushi who represent the field of Kinbaku (Akira Naka san, Towa san, and Kasumi Hourai san) are shot by the up-and-coming photographer Yasui Kissyou san and exhibited in large format.
Since today was a weekday, I was able to look around at a leisurely pace.  However, it did get busier as time passed. I guess it will be very crowded on the weekends.
Kasumi Hourai san, Towa san, and Yasui Kissyou san were all at the gallery, and I was impressed that they were so communicative and approachable, and that they even let me take photos of them. Later, Akira Naka san also arrived.
You can order coffee and a cake, or beer and snacks at Gallery ShinjukuZa while enjoying exhibitions in a relaxed mode.
Looking at Bakushi, photographer, and models talking to each other so pleasantly in front of their art I felt their strong relationship. Additionally, I felt it truly professional that their friendship was so genuine, maybe because they all share a similar level of creativity.
I interviewed the photographer Yasui Kissyou san. People usually retouch portraits in order to hide wrinkles, blemishes, Etc., but amazingly, he did no retouching at all to the photos for this exhibition. He said because he wanted to express the distinctive tempestuousness of Kinbaku without modification. So it is indeed very real. I was even able to very clearly see Tatami marks on thighs and downy hair on breasts. It is amazing that models accept this, and must be a result of the relationship of mutual trust.
Bakushi Kasumi Hourai san is also a model of naka akira san for this exhibition, so I asked her how it differs to join a photo-shoot as a rope top and as a rope bottom. She said that it is hectic when she works as a rope top because she has to do Kinbaku one after another, several times in a day. But, when being a rope bottom, she leaves everything to the other party, and I found it wonderful that she can leave everything to the other party, because this would be difficult for most rope tops. Kasumi san said that it was first time for her to be involved in a photo-shoot as a rope bottom, but I could hardly believe that it was first time for her to be a Kinbaku model. Her expressions in the photographs are so wonderful: anguish and ecstasy.
I also interviewed Towa san, and she said that it is quite recent that she started to record her Kinbaku in photos. She modestly said that there are so many things that she doesn't understand for photo shooting, but that the photos here are really a treasure that she can share with her friends.
They say that Kinbaku for photography differs from Kinbaku in private scenes, because it is supposed to be seen by people just like a show. I heard a conversation such as, "Viewed like this, it seems that many photos are side facing. Perhaps it becomes side facing when we try to show rope works at the back of the body." On the other hand, I guess that not so many rope bottoms raise their heads in private scenes, but for photography they often make a model raise her head in order to show her face more clearly. The process to think how to show Kinbaku with everyone who is involved in the shooting differs from private scenes, and it has its distinctive charms.
Exhibitions of Kinbaku photos have been increased rapidly over the past few years in Tokyo, but it is the first-ever exhibition of Kinbaku photos of multiple Bakushi shot by a single photographer, and I believe it is also the first Kinbaku photo exhibition that used crowd funding.
There are also many privileges for the crowd funders, and Kinbaku shooting is one of it. When I went to the gallery, Kasumi Hourai san performed Kinbaku on a funder and Yasui Kissyou san took pictures, and she (the funder) was kind enough to let me take a look it. Kasumi san had brought a bamboo spar and suspended it from an open timber as a suspension frame. As they had just met for the first time, Kasumi san evoked her desire and tied her in a careful manner. Real Kinbaku happening with large format Kinbaku photos in the back background is indeed another world, and she said that his experience would be a great memory that she will cherish for the rest of her life.
I thank the participants for this great photo exhibition, and looking forwards to seeing the next experiment of this 'Kinbaku Shashuu' project.