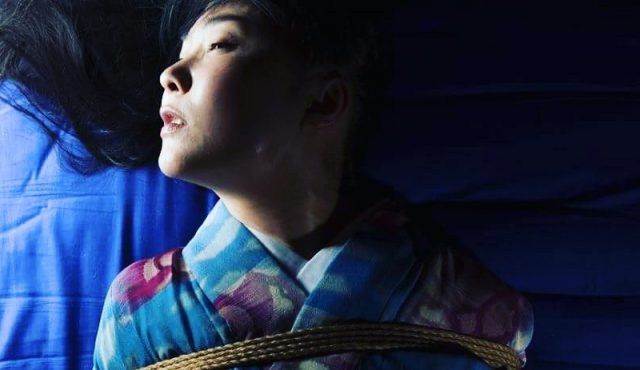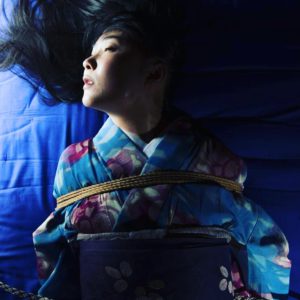 Nao Nagasawa is a kinbaku model and organizer of Erotica Japonesque events.
Her main occupation is as a housewife. She is a very pretty lady, but her expression of agony and ecstasy that we see in her shows is so full of voluptuous grace that an adult could only express it.
Yuki: What inspired you to be involved in Kinbaku as a professional model?
Nao: Let me say that I may not strictly be a professional model because I am not making a living from it. The reason that made me want to appear on DVDs and in shows and to get a performance fee is that I met a person incidentally at a rope gathering. He had been attending SM events for more than 30 years. When he took me to a certain salon, a professional Bakushi asked me to do an appearance. It was merely as a result of a chance meeting, and I had not intended to do that. This was about 2008. After that, I appeared in shows and DVDs occasionally when I was asked, and in 2010 I got to know the Bakushi Go Arisue san.
In 2012 I appeared on the stage at DX Kabukicho Theater SM LIVE SHOW as a partner of Go Arisue san for the first time. Thereby I stepped into the limelight and became a Kinbaku model.
Yuki: How and when did you discover your interest in Kinbaku?
Nao: When I was about 5 years old I visited my grandparents' home. My mother's younger brother was a college student at that time, and he had so many men's comic magazines. Sexual content was not regulated so much at that time, so there were insulting scenes in samurai dramas such as being trapped in a latrine and getting tied up. Another thing that had a great influence on me was that, as a 7-year old I was living in a rural region and while I entered somebody's barn in secret with the neighborhood children we found naughty books and read them. There were various contents of a sexual nature, and I was so much interested in Kinbaku and BDSM. I remember that I was sexually aroused even though I was still a child. I thought that it was normal, and that everyone does such acts when they grow up.
Yuki: Are there any difference between being tied in private and as a model?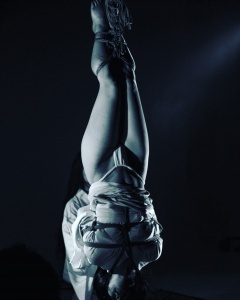 Nao: In private scenes I do Kinbaku only with the person I am in a relationship with, so it has romantic feelings. I have never entered into a master-slave relationship. There is no difference in Kinbaku as an act, but there is a big difference between private and show modeling in regard to emotions. In private, Kinbaku is a part of an expression of affection and a sexual act. So we do our shibari just like normal people share kisses, and we simply feel unmixed pleasure behind closed doors, no more and no less. When I am being tied up as a model, I feel more kinds of emotions. I trust Kasumi Hourai san, because she takes care of me as a model. I am freed, and I accept her actions against me. In addition, I want to feel humiliated, because the major premise is that the customers and the staff at the location are watching me, so my physical reactions and the voices within me overflow after I have suppressed them up to my limit.
Yuki: There are so many types of Kinbaku, such as painful, erotic, artistic, Etc. Do you have any favorite type of Kinbaku?
Nao: I love to watch them all, and I think erotic ones are also artistic. I prefer painful ones when I am being tied myself, because my mind becomes frozen by being caught out physically and I can go into my mental space.
Yuki: I hear that you are also practicing as a rope top. What kind of activities you are doing as a rope top, and is there anything you have discovered by experiencing being both rope top and rope bottom?
Nao: I'm not practicing as a rope top now, but I was involved in the films Hana to Hebi (Flower and Snake), ZERO and KinbakuEshi no Kanbinaru Utage (A sweet banquet of the Kinbaku painter), a TV drama Tokubou, and a photo book Zero as a supervisor for Kinbaku when I was in a relationship with Go Arisue san. I devised and staged the Kinbaku forms and also did the actual Shibari, and some of them are used in the main scenes.
Yuki: You have been a partner of Go Arisue san from 2011 to 2014, and now you act as the model for Kasumi Hourai san. Do you mind if I ask you about your relationship to them?
Nao: I was a partner of Go Arisue san until last year, and I was also in a romantic relationship with him personally since early 2011 before I started to be his model. I am no longer in a relationship with him. I first met Kasumi Hourai san in 2008. I saw her website Wa to Miyabi no Kinbakukan (Japanese-style elegant Kinbaku house), and I was attracted to it, and I went to meet her when she came to Tokyo. There she tied me up, and it was only the third time in my life. The time has passed and in 2013 summer I acted as a photo model for her private shooting, and I asked to be a model for her independent DVD (Wa to Miyabi no Kinbakukan DVD vol.1), and since then I have frequently acted as her model. I also accompanied her on her overseas trip from May to June this year. If she asks me to help, I will accept as the highest priority. Our relationship is that she is an irreplaceable good friend.
Yuki: You are also the organizer of Erotica Japonesque events. What is Erotica Japonesque, and how did you start organizing it?
Nao: Erotica Japonesque is a show event that brings together original Japanese and uniquely evolved performances. I use the name Erotica Japonesque as the meaning of Japanese erotic sexiness. I place importance on high quality, and sticking to showing erotic sexiness modestly and artistically. Performers are primarily a world champion pole dancer, a celebrated ballet dancer, a leading whip performer, a hula-hoop performer, Kinbaku performers, Japanese instrument (such as Japanese drum and Shamisen) players, traditional performing arts such as Shishimai (lion dance), Etc. All of these are expressing various type of Wa (Japanese-style). Another feature is that short performances (about 10 to 20 minutes each) are zipping along like buses. In addition, there are so many unique creations such as Kinbaku drawings and printed books in the selling space. The reason that I became the organizer of Erotica Japonesque is that I attended an event held at café ATLANTIS (which became a venue for Erotica Japonesque) in 2012. I was attending the event with Go Arisue san; my partner at that time, and the manager of café ATLANTIS offered me a project. It was an offer to do a Kinbaku performance show, but then it was changed and they asked us to launch a new event that could be held on a regular basis. Since there was no fetish event specialized in a Japanese-style, I made a plan for a show event of Japanese erotic sexiness performances and named it Erotica Japonesque. I gathered performers by asking my friends and acquaintances. For example, I asked a big favor to my friends (we have been good friends for more than 20 years) to dance in Zentai suits, and now they are key players, and they introduced me to pole dancers who hold the world championship. I also found players of Japanese drums and Shamisen in other art events and asked them. I did all the planning and management by myself since it was launched. I had been putting the name of my partner Go Arisue san at the header of the event, but actually he was just appearing as a guest, so I removed his name at the end of last year along with the dissolution of our partnership.
Yuki: I have heard that you are also involved in a project called Kinbaku Shashuu, the photo exhibition that expresses the Kinbaku of multiple Bakushi by a single photographer. Could you please explain to our readers more about the project, and how did you become involved in it?
Nao: Kasumi Hourai san is leading the Kinbaku Shashuu project. Photos of Kinbaku made by three Bakushi who represent the field of Kinbaku (Akira Naka san, Towa san, and Kasumi Hourai san) are shot by the up-and-coming photographer Yasui Kissyou san and exhibited in large format. This project is ongoing with crowd funding. It is the first-ever exhibition of Kinbaku photos of multiple Bakushi shot by a single photographer. In addition, we can expect photos of fresh and novel angles because the photographer is still new to Kinbaku. The photo exhibition will be held from October 27th to November 1st 2015 at Gallery ShinjukuZa in Tokyo. Fortunately, this crowd funding has exceeded ¥1,000,000 which is much more than the target (¥600,000), so we decided to increase with photo books and video clips that will be returned to the supporters. I am just participating in it as one of the models of Kasumi Hourai san, but I am cooperating in it as much as I can, such as announcements and advertising.
Yuki: Do you have any requests or advice to rope tops from the position of a rope bottom?
Nao: I think we should treat each other in the same manner as in an ordinary relationship. Communication is very important. Some people are in a master-servant relationship, but rope tops and rope bottoms are on an equal basis when practicing the Shibari. I think rope tops should take care of rope bottoms due to the physical burdens they give. It is becoming common that some people are involved in doing Shibari in a casual manner, but Shibari is a part of Kinbaku with an understanding of the rope bottom, so basically we should do it with a person in a committed relationship as a principle. Be sure not to treat rope bottoms (especially females) as an object. Some people who hold Shibari classes pay attention only to the appearance of rope bottoms and say something like, "Girls who come to my place are good looking" in order to pull in rope tops. Some rope tops just consider keeping themselves from being criticized when they injure rope bottoms, but please keep in mind that rope bottoms are real people.
Yuki: What advice would you give to somebody interested in being tied up?
Nao: Since Kinbaku has become popular the number of people who are able to do Shibari is increasing. However, just like massage practitioners depend on the person, Shibari technique and humanity vary among individuals. Please only let yourself be tied up after you know the rope top very well. You might get addicted to Kinbaku more than you can possibly imagine. But, don't be compelled to accept when anything happens. This is applied not only to amateur rope tops, but also to rope tops that are active as professionals.
Yuki: What do you think about the increasing number of people overseas that are interested in Kinbaku?
Nao: I am pleased that so many people overseas are interested not only in Kinbaku but also in Japanese culture.
Yuki: What is Kinbaku for you?
Nao: By getting caught out physically, my mind gets frozen and becomes nothingness. Since my body is forced to be in an unusual posture, I feel a sense of openness and fulfillment when the ropes are untied, and the rope top or the audience feel a series of a beautiful flow, and they get in tune with my emotion. For me, Kinbaku is a tool to release myself, and a means to confirm my presence.
Nao Nagasawa's Facebook is at www.facebook.com/naoko.nagasawa2 Erotica Japonesque's official blog is at eroticajaponesque.blog.fc2.com A digest video clip of Erotica Japonesque is at youtu.be/BcgQXKQ5EsU The announcement video clip of Kinbaku Shashuu is at youtu.be/28sIzU5h7BM