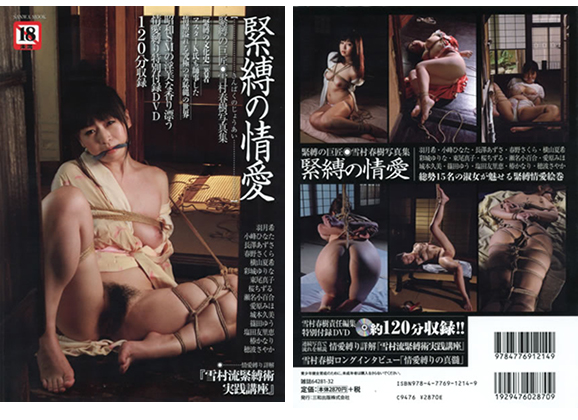 I'm delighted to report that a new kinbaku book featuring the rope and photography of the great yukimura Haruki has just been published by Sanwa publishers in Tokyo. It's called "Affection of Kinbaku" and features many wonderful pictures of the master's signature newaza ("caressing") style of Japanese erotic rope. There's also a lengthy DVD and even a brief "how-to."
I'm also honored to report that my friend Mr. Matsumoto, president of Sanwa, asked me to write the preface to this volume. I was very, very flattered to do so since I consider Yukimura sensei to be not only my teacher but also a good friend.
For those interested and because getting Sanwa's publications in the US is a somewhat difficult process, here is the preface:
緊縛の情愛緊縛の巨匠◉雪村春樹写真集
Preface to "Affection of Kinbaku(緊縛の情愛)"
I believe yukimura haruki to be one of the greatest Japanese rope masters to have ever lived. His "caressing style" of Kinbaku is unique. It is both very beautiful and very seductive. It powerfully communicates his art to the viewer and, more importantly, to each of the models he ties.
"Communication" is the key word. Yukimura sensei communicates with rope. His Kinbaku transmits messages to his partners. Messages of love, of sensuality, of power, of whatever he wishes. This is why the pictures of his models are always unique. The lovely women he ties and photographs never seem to "model". Instead, they express their true feelings and so expose their true selves to the camera. Yukimura's caressing style of Kinbaku (newaza) causes this. They can't help it.
And no one ties like Yukimua sensei. Like every great artist, his style is all his own. Watching him tie is like watching a great dancer dance. Graceful. Sure of every movement.
I like the title of this book, "Affection of Kinbaku." It is a good title for a book of Yukimura sensei's art. In it you will see simple ties and complex ones. All will be beautiful. This is because Yukimura sensei is not only a great rope master but also a true visual artist. He has a fine "eye" for photography and lighting. However, both his canvas and his main subject is the female form. Few bakushi know how to pose their models better. They always glow from the "affection" he shows them with light, camera and rope.
Yukimura Haruki sensei is a magician of Kinbaku. I am truly honored to be one of his students.
Master "K"(マスター"K"『緊縛の文化史』著者)
Los Angeles, California