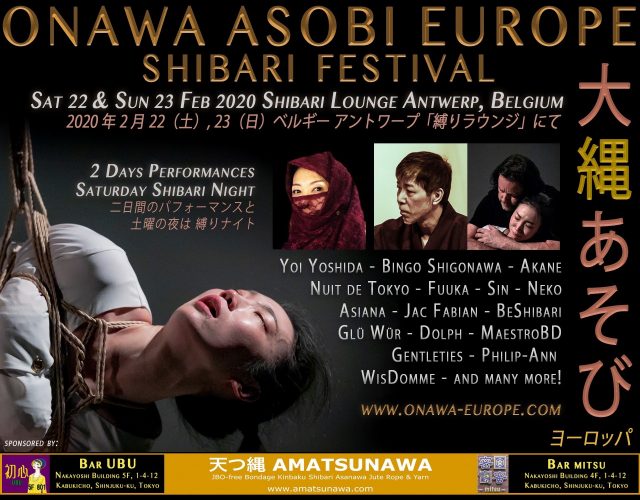 Tokyo based shibari festival onawa asobi comes to Europe!
Sat 22 & Sun 23 Feb 2020 – Shibari Lounge Antwerp, Belgium
Amateur performers from Japan and Europe unite for an awesome weekend of live shows, shibari jams, friendship & connection.
Onawa Asobi is a 2-day kinbakushi event which is organized yearly in Tokyo since 2009 and has been a stepping stone for most of Japan's talented riggers: naka akira, Hajime Kinoko, Ranki Kazami, Ren Yagami, Kasumi Hourai, Bingo Shigonawa, Ero Ouji and many others have all been participants.
Yoi Yoshida (JP), the initiator and organizer of this annual festival, has teamed up with BeShibari (B) to organize the first European Edition of Onawa Asobi in the Shibari Lounge venue. For performers and audience alike, it is a unique chance to be part of a weekend of cultural & rope exchange between Japan and Europe. Saturday 22 & Sunday 23 February will be packed with performances and on Saturday evening we will host a Shibari Night rope and play party.
The spirit of the festival is to get amateur kinbaku lovers together in an atmosphere of friendship, respect, creativity and support. Onawa Asobi Europe unites Shibarists who have travelled from Japan and all over Europe to show us their creativity and originality and share their unique styles of rope play. Ranging from enthusiastic starters to renowned and respected veterans, Onawa Asobi Europe is about Shibarists who have a sincere interaction with their partners. You will see honest performances by people who can take the audience on a journey and make us truly feel the fun and excitement we all have when doing Kinbaku.
Saturday
MaestroBD (it) & Marlene Chapel (it)
Glü Wür (sp) & Rouse Renoir (ch)
Dolph (nl) & Asimira (nl)
Tako (ch) & Fluffy (ch)
Yoi Yoshida (jp) & Candy Dandelion (be)
Nuit de Tokyo (fr) & Fuuka (jp)
Sin (gb) & Neko (ger)
Sunday
Philip-Ann (fr) & Yacinthe (fr)
Gentleties (be) & EveHill (nl)
WisDomme (gr) & Psychopsis (gr)
BeShibari (be) & Akane (jp)
Bingo (jp) & TatiAna (fr)
Jac Fabian (dk) & Maria (dk)
Asiana (nl) & Shishi-za (ger)