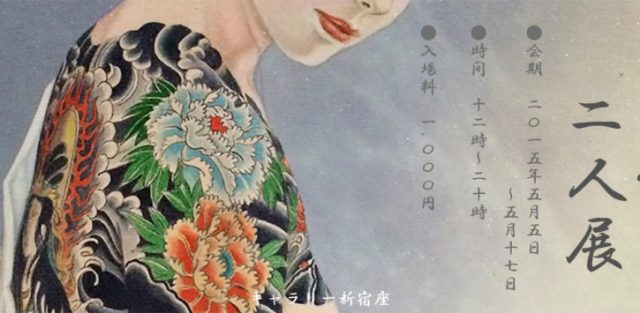 Bondage and Tattoo Art by Ozuma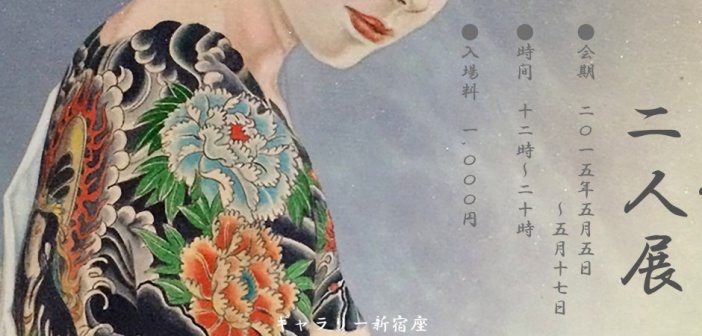 Shinjukuza Gallery will be presenting a new exhibit on the work of Ozuma, featuring his work both as a tattoo artist as well as a rope and seme artist.  According to the website, this is the first time that Ozuma's work has been exhibited under both the Yoko and Kaname names (the different names he used for tattoo work and bondage paintings).
There will be a series of events at the gallery tied to the exhibit, including performances by Shiko Shima and Bingo from UBU.
More information is available at the Shinjuku Za Website.
[toggle title="Exhibit Information" load="hide"][Exhibition Details]
Dates : May 5, 2015 (Tuesday) – May 17 (Sun) ※ in the session does not do Kyuro.
Time : 12: up to 00 ※ the final day only 17:00: 00 to 20
Entrance fee : ¥ 1,000
Exhibit : Small wife needed the original 50 points (sale possible)
※ part not for sale there
Shotsuma Yoko original 50 points (sale possible)
※ part not for sale there
Session in the event all those not listed in the ※ time 18:00 ~
May 5 (Tuesday) the first person two person exhibition opening event
starring Ito Mai
Shima Shiko & Kawai Mizue
May 6 (water) bondage demonstration
appeared swan Ranmaru
ROPE
May 9 (Saturday) Talk & SM live
bondage live Hinata Takumi & Hara bondage live
SM live Shima Shiko SM live
talk guest Hinata Takumi
Tennokai
Shima Shiko
May 10 (Sun) Hada-ga and bondage Show
①13: 00 ~ ※ Hada-ga only
Hada-ga tattoo artist founder Hohasu
model Shizuma
②18: 00 ~
Hada-ga tattoo artist founder Hohasu
bondage MurasakiMamorunawa Bingo & Yoshitori
May 15 (gold) bondage demonstration
appeared 653
erotic Prince & Koitoguchi
May 16 (Sat) bondage demonstration
appeared Kaminami & Shino
silica & mirror
Surprise guest[/toggle]