In these times of international crisis caused by the COVID-19 pandemic, we suffer collectively. We cannot so easily practice whichever interpretation we enjoy in our pursuit of rope bondage and/or sadomasochism. We cannot travel freely. Some of us may have contracted the disease. Some of our friends and acquaintances may have succumbed. Our thoughts are with their families and friends.
Finding ourselves severely restricted (no pun intended), I wanted to continue interviewing, especially eminent Japanese Kinbakushi who we may not know well, and who might further our knowledge by drawing back the veil ever wider. This time, I wanted to connect with an influential dominatrix, ever since I first discovered she had predated even Akechi in performing and teaching in The West.
Sin: Asuka san, you have been involved with SM, fetish and kinbaku for three decades, and with BAR–BARA salon, Kyoto for 25 years. I want to ask you about your personal history through those times.
Asuka: I started my activities in 1990 when I joined the first SM club in Kyoto, Rosencreutz (Rose Cross/ Rosicrucian). Because there were so few dominas in Japan good at tying, sadomasochistic play was specifically promoted focusing on the Kinbaku. At that time, there were no professional Kinbakushi in Kansai, so I studied the tying in the videos of Nureki Chimeo and akechi denki, practicing in play with masochistic men, accumulating my technique. Not long after the opening of the SM bar Barajūjikan (also meaning Rosicrucian in Japanese) in 1994, Osada Eikechi performed his Osada Zeminaru, including suspensions.
Sin: Can you explain a little about the culture of female-dominatrix kinbakushi in Japan?
Asuka: Since Akechi Denki introduced female Kinbakushi in video and published media, the image of Kinbakushi being exclusively male has disappeared in the SM scene. The trend of many dominas adopting rope bondage, both in play and in video shoots seems to have taken root over the past 20 years. I guess that the world was going from video to DVD, and digitization made things easier.
Sin: How is the COVID-19 crisis affecting business?
Asuka: First of all, the fetish industry has also refined new forms of play in its own preferences, spirituality, and interpersonal relationships, and we look forward to seeing how the potential of individual dominas will change. It is not difficult to coexist with fetishism in your life. While the crisis is a good opportunity to think about how to live with others, this historical event is affecting the fetish industry. It is undeniable in most industries that the economy is stagnant, but we hope that a new female Kinbakushi will become a shining light when the crisis ends and we are in recovery.
Sin: Can you explain the influences in your childhood that made you interested in SM?
Asuka: It was the environment in my childhood that formed my personality and that made me committed to sadomasochism. My family has a very long history in Kyoto as the Shizoku family with samurai ancestors, and I'm the 10th generation of it. I had a disciplined upbringing, and when I was a child, I had to learn Koto (13-stringed Japanese zither) and Nichibu (traditional Japanese dance). When I nervously practiced Koto in front of my mother and grandmother, a burning incense stick was always nearby them. If I made a mistake, they pressurized me by saying, "Practise or perish". My grandmother and her sisters all were embroidery artists of Kimono and my mother was a Yuzen silk printing artist. In my house there was not only a collection of Japanese paintings, but also a collection of western art works, which I loved to look at. The delicate, sensitive finger movements of my grandmother's needlework and the smooth touch of my mother's brush tip are still vividly baked in my mind. I saw both traditional and Shunga erotic paintings at that time. Because of my mother's work, I always had an assistant craftsman go in and out during the day, and my father was a baby–boomer, so, many people came in and out until midnight, and I didn't feel lonely. The only moment when I felt loneliness was when I noticed that I was the only child. Since it was a relatively wealthy family environment and I had no siblings, I did not have any desire to compete. I loved to read books. From that point on, I tended to go from pure Japanese literature to Dazai, Tanizaki, to Shibusawa, and then on to Leopold von Sacher-Masoch to fetishism.
Notes: Moxibustion; moxa cautery is a traditional Chinese medicine using a burning mugwort moxa on the skin. It might be used with an incense stick as a threat to disobedient children, and can occasionally be found in Japanese sadomasochism.
Dazai Osamu (1909–48)  was one of the most noted fiction authors of 20th Century Japan, writing in an autobiographical style on topics of self-destruction, suicide and debauchery. 
Tanizaki Jun'ichirō  (1886–1965) was a major author of Japanese literature presenting works about sexuality and destructive erotic obsessions.
Shibusawa Tatsuhiko (1928–87) was an art critic, and translator of French literature who wrote short stories and novels about black magic, demonology and eroticism.
From the mid–1950s Japan experienced an economic miracle, continually increasing until the early 1990s. People were more indulgent with their money. They were rich, and every month fetish magazines were full of advertising for various services. Locations designed for play were always full. It was a good time to be a professional dominatrix. But the Plaza Accord signed in 1985 between the USA, UK, Germany and Japan to realign the Dollar on the currency markets overinflated the Yen, and in 1992 the bubble burst, leading to the Ushinawareta Jūnen Japanese economic stagnation.
Sin: Can you explain a little about Barajūjikan (Rosencreutz)?
Asuka: Yes, it was the first SM bar in western Japan, at a time when it was difficult to offer hospitality to all guests ranging from the depressive, guilt–ridden maniacs to the wild fetish enthusiasts. Already quite famous, Araki Nobuyoshi just came to the bar one day and took photos. A few years later they were published in Kyoto Bojo. The famous pink movie director Yamamoto Shinya and others came to the bar to broadcast his 'Tonight 2' late–night TV program, and then the phone never stopped ringing. James Cameron, who came to Japan with the release of Terminator 2, also visited my bar for two consecutive days, saying that Tokyo was so boring. He wrote his signature saying, "Asuka, why are you doing such a painful thing?"
Sin: Were you the manager of Barajūjikan?
Asuka: Yes, for about a year and a half from 1993, I was the Mama–san (female manager).
Sin: In September 1994 you held the 1st for SM bar Barajūjikan (Rosencreutz) and 3rd for SM Club Rosencreutz anniversary party with Oniroku Dan, Akechi Denki, Eikichi Osada, Hige (Hayakawa Yoshikazu of S&M Sniper), and the mistresses Tsubakijuyo and Asagiri Rie. What are your memories of that event?
Asuka: The famous people in the SM industry from all over Japan came, and it was a gorgeous event that was a truly splendid social party. The clients who came were all hardcore enthusiasts, because SM was still an underground subculture.
Sin: You were published in S&M Sniper in March 1995. Then you left SM Club Rosencreutz to start your own fetish salon, VELVET in November 1995. We have little information about VELVET. Can you tell us about it? Where was it?
Asuka: After leaving Rosencreutz, I rested a little. In those days, cell phones were not very popular, so I only had a pager. Even so, people contacted me at home: my clients, professionals in the BDSM scene and media representatives contacted me to confirm that I was okay, and the word 'Asuka–chan is not allowed to quit the SM industry' was the trigger for me to take a step forward, and the results of the gathering of the girls who came to me and left the store without thinking about where I was going. VELVET is the SM circle as how it was called before the salon we made into BAR–BARA. Clients of Rosencreutz, editors and publishers asked me to write articles, and I had a series in up to six magazines every month. So, I mainly advertised VELVET in fanatic magazines and worked it as a place to relax with people who could share fetishism. It was an at–home meeting where people chatted around in an apartment, but as the number of members increased, we quit the small salon style and opened BAR–BARA as a club.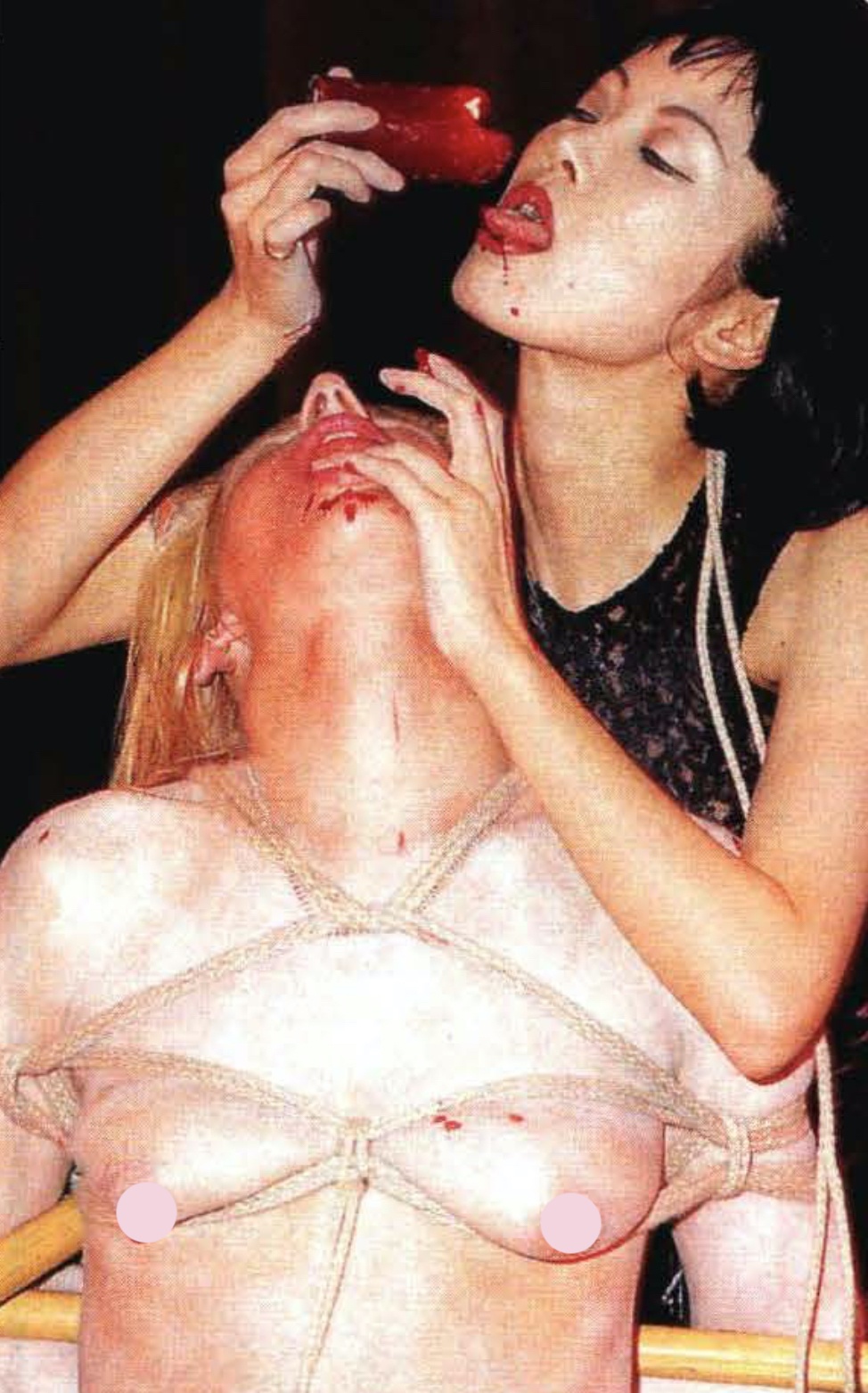 Sin: Can you explain the VELVET video label and the production?
Asuka: I wanted to immortalize the name of Circle VELVET, and I felt uncomfortable with SM videos that were popular in the SM Club at that time. I didn't appear because I had my own concerns, but I was able to think about my own level, so I made the first video in my early films that I was the publisher of, influenced by Western SM videos of the 1980s. Since 2000, the video industry has also changed dramatically, and dominas who appear on channels, e.g. streaming, have been managing their own PR and marketing, and selling their own content, and it has become a time when they need to be able to increase their content and to be able to produce more prominent characters. And also, since the male doms have been asked about the means and expressions of their fetishism to convey to the video, they are also returning to BDSM, so the time may be around once in a 15 to 20 year time span.
Sin: In 1996 you were in Germany at EUROTICA, performed at the famous Kit Kat Club, Berlin, then a guest bondage teacher at the SM Club Modern Creation in Düsseldorf, and also performed at City Hall, Wuppertal. What can you tell us about this trip to Europe? Who organized it?
Asuka: EUROTICA was an erotic trade exhibition then held every four years in Düsseldorf. But after the fire at Düsseldorf Airport it was hastily moved to (the former Stasi headquarters on Normannenstrasse, Lichtenberg) Berlin. I had two scheduled performances twice a day at the event on the first day, but if I didn't make it the last event of the day, the audience would go home, so I was told to leave the gallery set and do it once, so I spent the whole week just waiting for the show after 18:00 at night and enjoying the event. However, the other party spent all the time without any problems except local procurement. I have forgotten the organizer. Please refer to the August and September 1996 issues of S&M Sniper magazine for the details. EUROTICA ended after a week and I moved on to Düsseldorf from there, where I was introduced to the organizer of Rainbow, an event at Wuppertal City Hall, while attending Modern Creation originally as only a guest. In fact, I was planning to perform more in Europe, but I couldn't contact the British event organizer, so I ended up staying in Germany for a one-day event.
Sin: Your events in Europe in 1996 are very important for western readers to understand. Apart from e.g. Kazuko Seki, the first Mama–san of the famous SM club Nakano Queen, Tokyo who was visiting Club Doma, Netherlands in the mid–1980s, they probably do not know of many Japanese Kinbakushi working in Europe this early.
Asuka: Just after I returned, Akechi asked me for information about how it was for Japanese during my stay in Germany. It was an active period, with tattoo conventions, etc., so I asked the booth staff where I was participating if they would immediately tell me what was going on in the European scene, but the community was still small. It was a time when fetish enthusiasts were eager to travel across the country. I don't know of anyone else who was invited to work abroad before 1996.
Sin: 1996 was a very busy year. You opened BAR-BARA in Kyoto. You launched the SM video Label VELVET. You presented VELVET OVERDOSE that was serialized in BIZARRE MAGAZINE. Can you please explain about those times?
Asuka: It was a very hectic time. The paper media was still a life–or–death problem, so I had a hard time finding themes, photographers and models every month.
Sin: In 1997 you opened a second BAR-BARA salon in Nagoya. In 1998 you opened VELVET also in Nagoya. I have always noted that Nagoya seems to be a city with many female dominatrix Kinbakushi. Is there a reason? Why did the two salons close in 2002 and 2003?
Asuka: Nagoya is like a second home, since it is also the home of VELVET's photography. Nagoya is close, located next to the Kansai region, but a commercial area with a different culture and customs. In 2000 there were new club staff members who had matured, but were not available to become the new Mama–san. I trained Nagoya's domina, took videos and gave lectures. Nagoya has many masochistic men, so it's an easy place for girls to develop. I happened to know a good person up in Hokkaido who came to be the manager. I started with a good feeling that it would be nice to do it for about two years. After that, the manager closed the club, but the network I built during this period, whether in Nagoya or in Hokkaido, was mine and I still have a long relationship with them. Also, I am very happy that former staff are opening their own clubs and bars.
Note: During my research it became clear why so many top female Kinbakushi may be active in the Nagoya area – Toyota and the support industries, with a healthy demand from well–paid male employees.
Sin: In 2000 you gave birth to a baby girl. Did becoming a mother have any effect on your professional opinion?
Asuka: In the first place 'retirement' for a female 'queen' (dominatrix) was common in terms of marriage and childbirth because masochistic men feel differently about you when you become pregnant and your stomach starts to show. I was frustrated by this, and if I was intending to return after childbirth, why should I retire at all? I think it's okay to have 'maternity leave'. I took pictures of pregnant woman–bound nudes in order to earn a little because the masochistic men were not coming. In Japan, it was common practice for a mistress to stop after marriage or childbirth. My message for the next generation of young mistresses was that they shouldn't have to, and that we can change the attitude of society in Japan towards women. In addition, I was able to tell Gabi, the owner of Modern Creation during my stay in Germany about the way I am as a domina, and the differences in societal values between Japan and Germany, and the differences of single mothers and welfare, which helped me to become the foundation of my SM life values.
Sin: You have worked with the photographer Nobuyoshi Araki, Chiaki Kano, Hiromi Saotome, Ranki Kazami, Rui Scarlet among many famous names in the Pink world. BAR-BARA in Kyoto has now been open for 24 years. What are your most cherished memories of your work and the people throughout these times?
Asuka: It's a relationship that's been going on for 25 to 30 years, and it's still not a part of our present life, so we'll be working together if we have any connection, and I have got so many memories that I don't know what to say. I still have to be stimulated and to grow further.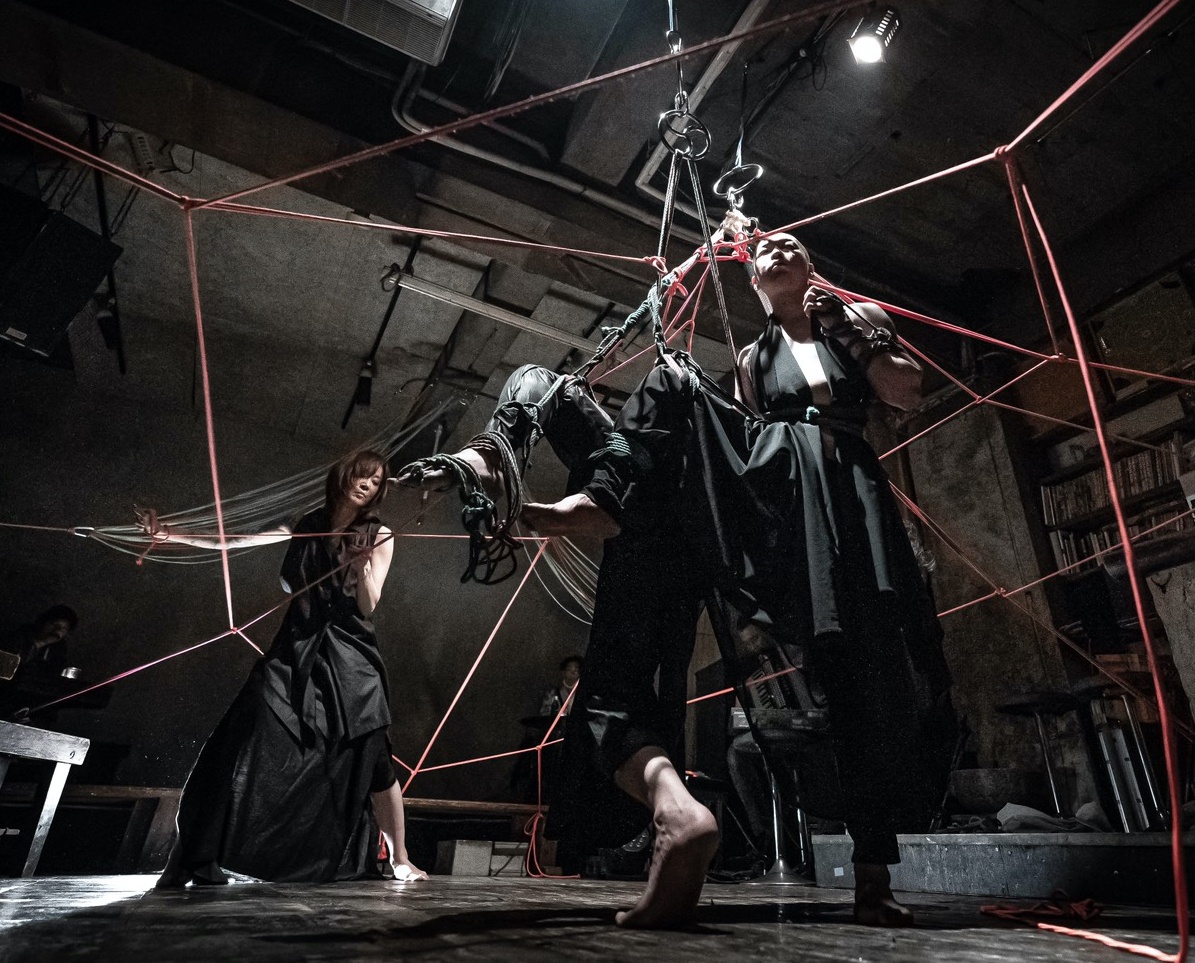 Note: In March 2020 Asuka collaborated with contemporary dancers Eiichi Kimura, Norihito Ishii and Ryotaro with the event "Unrecognizable Freedom" on the theme of limit based on the possibility and freedom in ropes.