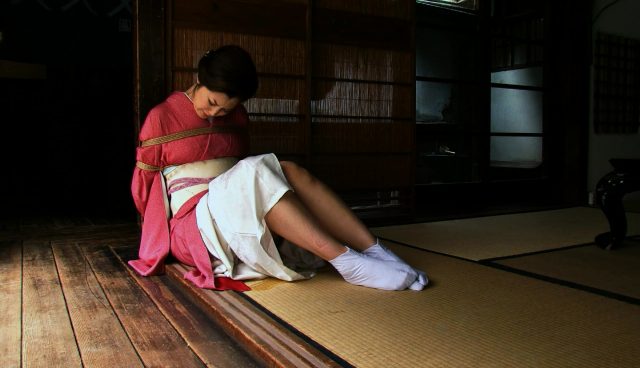 My personal interest in kinbaku began decades ago, downloading pictures on my computer before there was an Internet.  Every month or so, I would come across amazing images of Japanese women, tied in jute rope, and I would save them on my cassette tape so I could view them later.  A single image could take 45 minutes to an hour to download.  It was the 1980s and technology hadn't yet given birth to websites or newsgroups where these images would later be easy to find and access.
Thirty years later, I would find myself in Tokyo at a workshop learning kinbaku photography from the man who took those photos, sugiura norio.
For those who don't know Sugiura sensei, I think it is safe to say he is one of the figures in Japan who has had a foundational role in shaping kinbaku in Japan.  He is celebrating 45 years of professional work this year, and will be holding an exhibition and producing a book to commemorate his journey as a professional kinbaku photographer.
He began his career publishing photos of Tsujimura Takeshi's rope bondage for SM King (1973) and would go on to publish his work in major kinbaku magazines for four decades, along with dozens of photo books, and an incredible collection of videos and photos on his website.
Perhaps his most important and vital collaboration was with the legendary bakushi nureki chimuo, with whom he worked with for most of the 1980s.  Together, Sugiura and Nureki would define a very particular look for Showa era kinbaku and SM photography.
In 1990, Sugiura established Norio Sugiura Photo Office, which would become his base of operations for kinbaku photography from that point on.
By 2002, Sugiura had begun to publish his work online, first on a joint website with Masato Marai and later, in 2005 creating his own website, which is still operating.
Mirroring his earlier collaborations with Nureki, Sugiura would later team up with naka akira (Nureki's deshi and only named student) creating a new partnership that would further define rope bondage in the Heisei era.
By very special arrangement, Sugiura sensei has generously offered to allow us to share that legacy in the west, by offering two special series on Japanese Bound.
The first is a 20 volume collection of images, documenting his decade long collaboration with Nureki Chimuo.  These downloads each are composed of 500-600 high resolution images of Showa era (and style) kinbaku, with rope by Nureki Chimuo.
The second, is an amazing collection of 16 videos with the title "Kinbaku Kinema," a video project featuring the work of Naka Akira and documenting the evolution of rope and semenawa into the Heisei era.  
In both cases, these collection contain more than just a collection of images or videos; they represent a legacy.  What Sugiura has created in his signature style was a look and feel that is intense, erotic, and deeply sensual.  It is something no one before or since have been able to replicate.
It is my honor to be able to bring these image and videos to the west for the first time and invite the readers of Kinbaku Today to learn more about Sugiura's work and legacy and to enjoy the images he has created.
As a photographer, Suguira sensei has done more than create masterpieces, he has shaped a legacy in not one, but in two, generations of rope.
It is my privilege to be able to share that legacy.
Below is a small sample of his work, from the first Showa collection