During the "Golden Age" of SM publication in Japan, there were countless magazines and periodicals that catered to rope bondage enthusiasts and "maniacs" who were delighted to read stories, enjoy photo spreads, and view images from some of Japan's top erotic artists. Magazines such as Kitan Club and, later, Uramado, would set the stage for a revolution in kinbaku.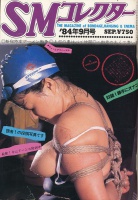 Of the dozens of titles that were published, with the recent decision of Sniper to become an online only publication, only two of the older titles remain active. From Sanwa, there is SM Mania Club (マニア倶楽部) and from My Way Publishing there is SM Mania (SMマニア). Recent times have been especially hard on print magazines.  SMPedia.com lists 75 magazine titles that were active during the 1970s and 116 that were active during the 1980s.  By 2010 that number had dropped to less than 15 with most of them being online only, giving a sense of the incredible decline of print magazines since the rise of the Internet.
One of the classic magazines, published by Sun, was called SM Collector (SMコレクター).  The magazine,which ran from 1972 to 1985, was, according to Master K's book The Beauty of Kinbaku, one of the most important of the "second wave" of magazines, due in large part to the influence of Minomura Kou, who served an "adviser, artist, author, bakushi and critic" for the magazine (as well as for SM Kitan).
Last year (starting in March 2013), Sanwa launched a new magazine with a title that is reminiscent of that earlier time. The full title "SMグラフマガジンコレクター"  (SM Graphic Magazine Collector) plays heavily on the "Collector" history, with the word "コレクター" (Collector) displayed prominently on the cover of each magazine, with the remainder of the title set apart and written in much smaller letters.
The first 4 issues have given us a very high quality SM publication. Each volume includes a DVD of hours of video and features rope work by some of the top bakushi (such as Akira Naka) and top models (such as Kawakami Yuu) working today. It is still early but with 4 issues already on the shelves and issue 5 scheduled for November 29, 2014, it looks like there very well may be a new magazine starting to taking hold.
While the Internet has played an incredibly important role in spreading the art and culture of kinbaku worldwide, the tradition of the print magazine also has a special place in kinbaku history.  We hope to see the new version of SM Collector thrive and hopefully, in its own way, be just as important to the future of kinbaku as its namesake was to its past.
Below are some sample images from the first 4 issues: