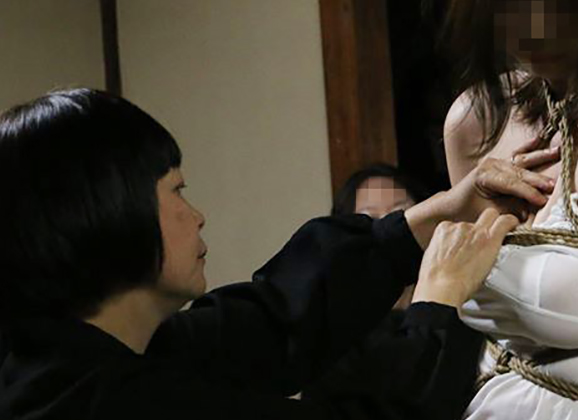 Hi, guys! I'm Aki, an ordinary housewife but rope-slut living in Tokyo. I would like to offer you a sneak peek of my kinky kinbaku diary for you interest. Enjoy it!
I can't find any words to report exactly what I experienced and felt in O-Nawa Asobi, even after one week has passed from this event. But now, I'll begin to tell what I saw, listened, did, and felt there with my poor words, because I really want to share them with those who read my diary all over the world.
O-Nawa Asobi is an annual big kinbaku event, which Yoi Yoshida started in 2009. A lot of experienced amateur rope artists participate in this event, and surprisingly, almost all of them have prepared for almost one year for this event. Yes, some distinguished professional rope artists, for example Kinoko Hajime and Kasumi Hourai also perform there, but they are NOT the main performers in this event. What is most different from other events is that the main performers at O-Nawa Asobi are amateur rope artists, and that is most interesting in this event.
In this year, 19 rope artists and 1 lecturer got entry as performers. I am very honor to serve as Yoi-san's partner. Our performance was 7th on the first day. For me, Yoi-san is a special, because she is a kind of mentor to me. Yoi-san has been giving lots of valuable advices to me for my enjoying kinbaku-life.
The theme of our performance is "Nikkatsu Roman Porno" and Yoji Muku. We try to recreate the feeling of erotic films made by Nikkatsu in 70's-80's and the erotic world of Yoji Muku.
At the beginning of this event, all of the performers and staffs formed the circle, and Yoi san looked around our faces, smiled and said "Let's enjoy O-Nawa Asobi!". Yes, we were very excited and convinced that the days of the event should be marvelous for all of us, of course for audiences too.
O-nawa Asobi had begun, a lot of people came to Roppongi Club from not only Japan, but also all over the world. The studio was full of people and their enthusiasm. During other artist's performances, I worked as a receptionist and also as an interpreter. Every performer has their own world, so I can't stop being attracted to their performances.
Oh, I have to report one important thing, the distance between performers and audience. In this event, the distance between them is very close. Yes, it is close enough to listen to the performers breathe, to see the performer's tears, sweat and to feel their temperature.
My turn had come.  Yoi-san and I sat down in front of the audience and bowed, our performance began. I was so nervous before our performance began, but once it started, I deeply got into Yoi-san's erotic world. Tears were overflowing down my face before I was aware, and also I was wet. My heart beat very quickly, my brain became over heated, I can't see anything but Yoi-san's eyes, hear anything but Yoi-san's breath. I hoped that this moment would continue forever, but the end of such a brilliant moment had come. Yoi-san blew out a candle held in my mouth, all of the sound stopped, all of the light turned off, then our performance ended.
Yes, I can't wait for next year's O-nawa Asobi from now. You guys, why don't you join this wonderful event next year?!