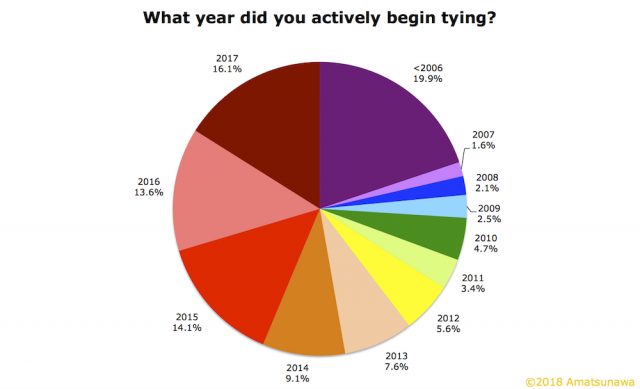 The online survey was initiated by 天つ縄 AMATSUNAWA following a series of private conversations in which questions related to the growth of interest and relative trends in world rope bondage remained largely unanswerable.
Understanding a full, professional poll would necessitate significant investment, it was felt best to begin with 15 simple questions, to establish a limited reliability snapshot of, e.g. demographies, terminology and material usage, and rope related tourism to Japan, etc. via Google Forms, providing a free platform for respondents requiring anonymity.
Please note that we are not, but have courted advice from qualified survey researchers.
We recognize results will be biased towards English readers active on predominantly English kink-related internet channels, and that questionnaire construction can be improved.
From the questions, many factors may be aggregated, e.g. year-on-year growth of interest, changing use of terminology, methods of learning, etc.
Constructive feedback is openly invited to help refine questions for the second annual World rope bondage survey scheduled to run through December 2018 with the option to be carried out by a qualified organization.
Raw Excel for 2018 is available at https://amatsunawa.com/survey-2018/
Results of the first annual survey, collected from 1,158 respondents between December 11-31, 2017: