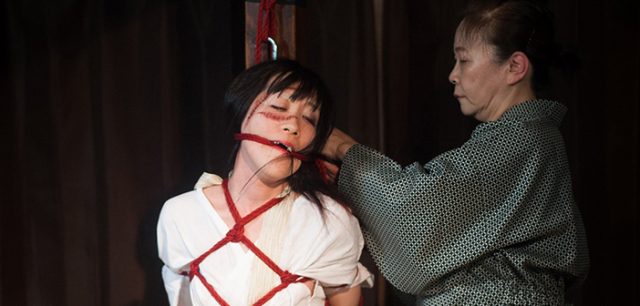 Yoi Yoshida san was my first real contact into the world of Japanese kinbaku and I was lucky enough to be invited to her onawa asobi 2012 event when it coincided with one of my business trips to Japan. Not knowing what to expect I was pleasantly surprised by how welcoming Yoi and her team made me feel and that weekend was to prove seminal in my return to the world of BDSM and rope-play. Yoi goes about her promotion of Kinbaku and encouragement of anybody interested to participate with humility and graciousness. It would be fair to state that she may be the most important individual to have brought the skills of more great Bakushi unknown outside of Japan to our attention and this has helped many experience the wider varieties of original styles. She is often called the mother of Kinbaku.
Sin: Yoi san, can you explain your history up to 2007 when you opened Good-Studio? When did you start to participate in Kinbaku? Who were your influences? Did you have a professional career that you gave up to pursue Kinbaku?
Yoi: Even before I opened Good-Studio, from around the year 2000 I was already helping to organize meetings of SM lovers who enjoyed Kinbaku. These meetings were already called Onawa asobi – rope-play, but as usual I was struggling to find venues. Moving the location every time made the preparation work difficult, venue location costs varied, Etc. Then I discovered that the basement of the building I lived in was free and this triggered me to take it and open Good-Studio. I have never been under any specific Kinbaku tutelage from anybody. I worked in market research and consultancy. This involved company-sponsored event management and it helped me in what I do.
Sin: In 2007 you opened Good-Studio. Can you describe the salon and the kind of guests that would visit it?
Yoi: It was a place where both amateurs and professionals could come and enjoy rope-play and also those who were looking for a place to host events of their own. It was a regular salon open to all interested people. Sometimes photographers used the studio. Even people living in the neighborhood used it for their private parties.
Sin: In June 2009 you organized the first Onawa asobi event. What was your motivation? Do you remember the cast list of performers?
Yoi: I saw many Bakushi who were regularly using Good-Studio not wishing to progress to the professional stage, but their presentation even as keen amateurs would be good enough to achieve it. I saw a lot of highly skilled individuals that I felt others should come to know. The first Onawa asobi was based around our kinship to attract more customers and we were pleasantlysurprised when nearly 100 people came to that first event, mixing amateur Bakushi in with the professionals to show fresh ideas. The first Onawa asobi was held on a single day and featured Hajime Kinoko san, Kasumi Hourai san, Shigonawabingo san, Ero Ouji san and four others.
Sin: Can you tell us something about the gender-ratio of Bakushi in Japan?
(My understanding is that because Japan does not have mineral resources rope takes a more important role in everyday use than in the west, so it has historically been used more for SM). Is it true that most professional dominatrix will use rope as part of their equipment on paying male clients and so in reality there are probably more female than male Bakushi in Japan. We just do not see them performing because they are happy earning enough for their dominatrix businesses.
Yoi: Yes, in clubs the SM Queens will use Kinbaku as part of their bondage, but I think that SM Club bondage and Kinbaku performance show bondage has some big differences. There are many performing female Bakushi who started as Sado-Masochism Queens.
Sin: Each country has historical entertainment media (books, films and television) specific to its own history. In Japan this means the Samurai of the feudal era, so even as children you would see rope being used on people. How much of an influence would you say that this exposure to tying has on individuals who take up Kinbaku in Japan?
Yoi: Maybe being bound as a childhood princess triggers one's own interest in bondage and awakens imagination and interest, but this does not necessarily mean that it will have an impact on one's real life. For the Japanese, the distance from a child witnessing the scenes of tying in period dramas to adult rope bondage is not such a big one because it is somewhat natural.
Sin: In May 2010 you organized the first Onna matsuri event for female Bakushi and I note younger females such as Koyuki san working with you at –mitsu-. As an older man I can see the incredible beauty in the way female Bakushi approach Kinbaku differently than the male perspective and seeing somebody such as Kasumi Hourai san's wabi-sabi style brings emotions that not all can appreciate. Can you explain why you wanted to make a separate event for the female Bakushi and how you believe it has influenced more women to take up Kinbaku as rope-tops?
Yoi: The Onna matsuri festival shows a difference in the unique beauty of the way a woman Bakushi performs Kinbaku compared to their male counterparts. The dominance is without sexual eroticism and we wanted to be able to focus on this in performance on stage. Additionally, I felt that female Bakushi had less confidence to perform on stage if the event was mixed. Onna matsuri and Onawa asobi are promoted in the same way in that professional Bakushi are participating alongside amateurs in front of an audience who like to enjoy the show and the skill of the people performing on stage. Many of the audience will be encouraged to take ideas and build something with their partner that they can show in future for the enjoyment of everyone.
Sin: You have performed all over the world. What do you think of the differences between SM Kinbaku rope-play and western rigging? Do you believe that different national taboos and laws relating to BDSM play a part in what may be acceptable at a local level?
Yoi: I know that western rigging is applied similar to Kinbaku, but I cannot answer this question properly because I 'm not conscious about it. However, I would like to respect the country-specific differences of taboos and laws about BDSM. I assume there is no difference in sexual preference depending on national character, but there might be difference in the bounds of acceptability and permissibility in accordance with local circumstances.
Sin: Do you believe that there are many involved with rope internationally that still misunderstand the function and delicacy of tying within Kinbaku?
Yoi: It's not necessarily appropriate to say what is right and what is wrong about shibari. People say that Japanese Kinbaku is beautiful, but is differs according to the views of rope tops. For example, some people think that the Shibari of Hojōjutsu (the arresting techniques) is beautiful, and some people have no interest in functional Shibari. To speak of extremes, it is fine if the rope top and the rope bottom have the same mind so long as it is not dangerous or life threatening.
Sin: In 2012 you closed Good-Studio and opened Bar –UBU- with Shigonawabingo san, then extended the operation to open –mitsu-. Can you explain your relationship to Bingo san and how the business of the two bars has grown?
Yoi: Bingo san is a good fellow and was introduced to me by a common friend from the Good-studio era. After Bar –UBU- we opened -mitsu- to help novices and now we welcome visitors not only from Japan but also from overseas, and for this I am very grateful.
Sin: The number of gaijin attending Onawa asobi has increased in the past two years. Do you welcome this and do you see any possibility to take the event outside of Japan (eg. Onawa asobi Europe/America)?
Yoi: In the past it was not so easy for foreigners to visit an event like Onawa asobi. But in the past few years many have come to visit and the number has increased. Regardless of the country they come from I see the potential and I think that many of these visitors have high levels of skill. I think this is a good thing. Because Onawa asobi is simply a high-skilled amateurs event it is not the same as being on a professional stage, but has similarities. For example, the performer is responsible for preparing their own soundtrack that accompanies the choreography of their performance. Someone who then has to think about the production of a performance including the music that goes with it then develops a better understanding of the success within those 30 minutes. There has not been a request to hold an Onawa asobi event overseas and I stress again that Onawa asobi was never about Kinbaku people trying to become professional. I already have many other relationships overseas through bondage and I am always interested to broaden horizons.
Sin: What are your views on the huge number of images of rope-play on social media? Do you believe this is a good thing or would you prefer that Kinbaku remained more underground?
Yoi: According to the popularization of the Internet, even children can easily get information. Sexual expressions, even particular kind of sexual information and images of Kinbaku and SM are mass-marketed. Thereby, people who poke their nose into Kinbaku and SM just for fun are exploding. On the other hand, some people are really ambitious about Kinbaku and SM from the heart. I do not think that we should not transmit information about Kinbaku and SM, but we should transmit the correct information. For example, we should not copy Kinbaku easily by just looking at photographs because the slightest mistake might be life threatening. In any case, we cannot know exactly how people assess the images, so I think we should decline extreme expression and hard-core sexual exposure. This is a difficult issue.
Sin: You must feel a certain amount of pride in what you have achieved in co-running bars specific for people with interest in Kinbaku and in bringing so many Bakushi to perform at your events. Do you have any new plans for the future?
Yoi: I'm not feeling pride in it, though I am being thankful for it. I do not have any particularly plans at the moment, but I might start something if I have an inspiration at some time.
Yoi Yoshida is the co-owner of Bar –UBU- and –mitsu- in Shinjuku, Tokyo with Shigonawabingo san and is the promoter of the Onawa asobi, Onna matsuri and Onawa DX events. The provisional dates for the Onawa asobi 2016 event are 19/20th November 2016.