Author: Osada Steve
Reviewed By: Pat Horinawa
Available from Osada Steve, Price: $100.00 (Paperback)
Published in 2009, "Aiko" is a 160 page documentation of shibari/kinbaku and SM as practiced by Osada Steve with his model and muse, Aiko. A full-colour art and education photo book, the images presented in "Aiko" were photographed at Studio Six in Tokyo over a period of 18 months, with select images from eight different photographers, from over 25 play performances.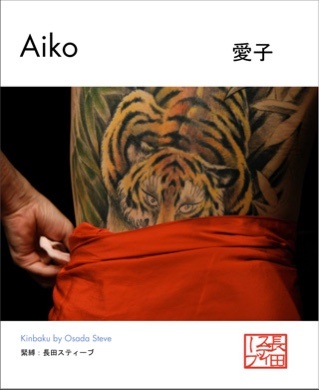 The photos selected for "Aiko" were taken candidly during Studio Six kinbaku sessions as opposed to pre-posed photo shoots. As such, many of the images convey a sense of emotion and intimacy. A sense of challenge can be seen in Aiko, attentive stoicism in Osada Steve, as well as brief glimpses of joy and laughter in both. If two words had to summarize the photography found in "Aiko", they would be "detail" for the quality of rope work, and "authenticity" in the reactions of the participants. 
"Aiko" is divided into several sections, demonstrating both elements of Osada-Ryu shibari, as well as other non-shibari BDSM activities. Ranging from sets involving Nawaza (floor work), to Tsuri (suspension), Kazari-nawa (macrame bondage), Bo-Shibari (pole bondage), semenawa (torture rope), "Aiko" also touches upon other SM oriented activities such as candle play, tongue play, and cage play. 
To be clear, "Aiko" is an art book, more than an erotic, educational, or pornographic release. A significant portion is dedicated to documenting and describing various intermediate-to-advanced suspension forms in Osada Steve's signature style. The suspension section covers more than 50 pages, and includes photos and descriptions of Yokozuri (sideway suspension), Aomuke-zuri, (face up suspension), Gyaku-ebi-zuri (reverse shrimp suspension), Ebi-zuri (shrimp tie suspension), Futomoto-zuri (thigh suspension), Utsubuse-zuri (lying face down suspension), Teppo-zuri (rifle suspension), as well Take-zuri (bamboo suspension).
While not an overt instructional manual, "Aiko" was released for a English-speaking audience. Osada Steve does take care to provide English to Japanese translations for all ties, as well as brief description, history, or commentary for each photo set. The book is full of bright, clear, close-up photography of advanced rope forms. Accompanying each, several technical details or history are usually presented, as well as some potential trouble shooting for individuals hoping to emulate certain ties. Much of the writing presents amusing anecdotes or reflections, at least as much as technical information. 
"Aiko" is a quality book for anybody interested in high quality kinbaku photography, or for individuals seeking some easy-to-digest background information (in well written English) surrounding the culture of traditional Japanese rope bondage. Osada Steve is recognized as one of the elite rope masters living in Japan, largely responsible for making kinbaku accessible to a western audience, and "Aiko" definitely continues that mission.
"Aiko" may be purchased directly at www.OsadaSteve.com