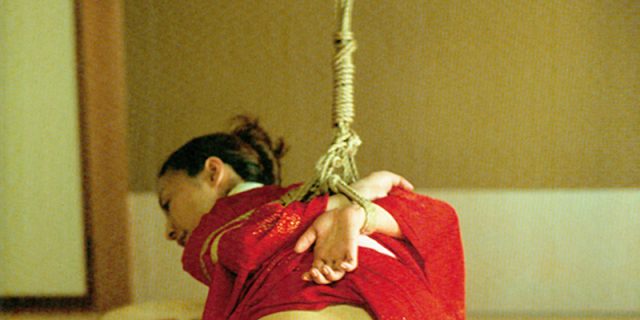 In 2001, Motz Publication released Punishment (罰) a gorgeous photo book of Naoko Hayashiba's images photographed by Alao Yokogi, one of his many photo books of "Talent Photos" (タレント写真集) for famous actresses and models in Japan.
Naoko Hayashiba, herself, is an interesting figure.  Famous both as an author of manga and as a professional shogi (Japanese chess) champion, she was embroiled in scandal after it was revealed she was having an affair with Nakahara, one of Japan's Shoji legends.  She was the youngest female champion at the age of 14 and held the title for 10 consecutive years.  She retired in 1995, following the scandal but returned to Shoji 15 years later in 2010.  During her absence from shogi, she posed for a number of photo books.
Punishment (罰) is notable to kinbaku enthusiasts due to a small section of the book (roughly 20 pages) which feature Hayashiba tied by the legendary akechi denki.