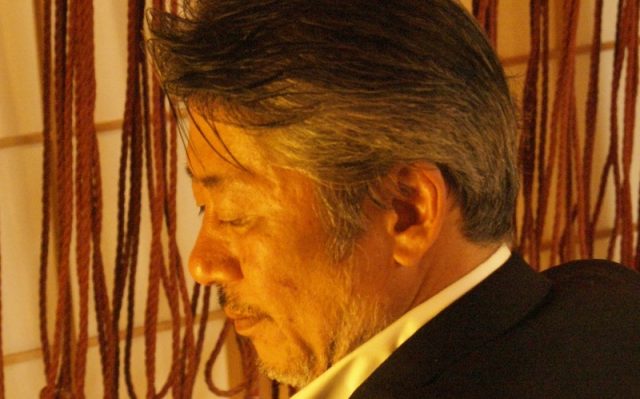 Always immaculately dressed, Nawanojyoh san is a gentleman Bakushi with a deep love of kinbaku. He is the owner of the Kinbaku-orientated Jyohya Club in Osaka, and involved in the staging of many rope-play events. He is known as the 'Bakushi in a suit', and creates a unique atmosphere when performing to make his model look all the more beautiful and bewitching, and amongst his performance tricks is the must-see Tsubaki petal shower.
Before I start this interview, I would also like to state that when I arrived at my first Ō-nawa asobi rope-play event, and finding myself the only gaijin in the audience with a rudimentary command of the Japanese language, it was Nawanojyoh san that immediately sought to make sure that I had a good viewing position, provided me with refreshments, and showed such charm, etiquette and kindness to make me feel instantly at home. We have been friends ever since.
Sin: Nawanojyoh san. Can you describe the chain of events that brought you into the world of Kinbaku? Who were your influences? How did you learn Kinbaku?
Nawanojyoh: There really are no particular things or people that brought me into the world of Kinbaku. I used to go to a certain place just for drinking. One night the master of the place said to me, "Why don't you have a try?" and that was first time for me to touch Asanawa. Then I dedicated myself to practice for a year, I mastered the basics, and then advanced. Since I felt confident, I opened Jyohya Club. It all happened a year after my first touching the Asanawa. When I tell people this, everyone says, "Oh! With only one year?"
But, if you spent a great deal of your time practicing and perfecting, one year is enough to be able to do suspensions, and then expand further. After that, Kinbaku people came to Jyohya Club only by word of mouth. Then I started to receive offers to appear on stage from organizers of Kujo-OS and other stage theatres, and anniversary events of such salons, and people started to come to learn Kinbaku, and that is now at Jyohya Club. I would like to tell everybody all over the world that Kinbaku is not a strange world, but a world that is freely available to anyone.
Sin: You opened Jyohya Club in October 2009. Can you detail your reasons for opening the club, the kind of events you have there, the type of visitors, and your goals? What role does the rope-club scene play in Japan?
Nawanojyoh: There were no clubs specializing in rope in Osaka at that time. The concept of Jyohya Club is as follows: couples who like rope-play, single women who want to be tied up by myself, men who want to learn rope-play, foreigners who want to be tied up and take photos in the Japanese style tatami room – many people who have diverse interests come to the club. Sometimes we enjoy a drinking party for Beaujolais Nouveau, or beer, etc.
Kinbaku is a kind of communication, and communication via rope is far from porn. Women show expressions that are different than usual by being tied up with rope. I think it is the realm of erotic art. With such a concept, I believe that Jyohya Club is a place where people in the world of Kinbaku recognize its function and decide to visit.
Sin: I am aware of your connections to Nagare Aotsuki san, Kazami Ranki san and the Kansai scene. Can you detail your relationship?
Nawanojyoh: We are all about the same age (born around 1960). Our rope tying and performance differ, but we readily accept each other's style. We three are all owners of meeting places, so we are supposed to be business competitors. However, since we accept each other, we organized Shibunawakai with a revolving monthly meeting place. Guests of each of our places can then interact with each other. This increases accessibility to all of our places, and then it makes the world of Kinbaku come more alive.
Sin: How important is the camaraderie among fellow Bakushi in Japan?
Nawanojyoh: There were not so many interactions before. But nowadays, there are interactions between guests and even between Bakushi. Importance differs among various people. It very much depends on the frame of mind of each person. If he/she wants to become familiar with Kinbaku, or to just become satisfied on their own, or watch and be stimulated by other people's Kinbaku, or try to improve by interacting with others, Etc.
Sin: When you use rope-play, what are the considerations you recommend in respect to the rope bottom's welfare and pleasure?
Nawanojyoh: Safety rises exponentially by mastering Kinbaku technique. It is indispensable for rope tops to master basic technique for rope bottoms' safety. Not in one's own way, but by learning from someone experienced. By mastering these techniques and reviewing repeatedly, only then can we give safety and pleasure to rope bottoms.
Sin: What rope, and how important would you say is the quality and feel of the rope that you use, and the reasons you use this type of rope?
Nawanojyoh: I'm processing jute ropes and make 12 ropes of 8m in one set. I tried many rope companies' products, and now I get Aranawa (unprocessed/crude rope) from one company. We need many processes such as boiling in a big pot, drying with tension, rubbing Bayū horse oil, Etc., and while using the rope directly on a woman's skin, her sebum and sweat get into the rope and this makes the rope into a higher quality.
Sin: Can you tell me how most Bakushi learn Kinbaku in Japan? Is it taught one generation to the next, or do most people just pick it up by watching and learning?
Nawanojyoh: A decade ago, it was normal to learn by watching, just like chef de cuisine. Nowadays, we teach to people who are interested from the basics by using mannequins (it depends on the person if it is free or charged).
Sin: How do you feel about the increasing interest in Kinbaku from outside of Japan, and do you ever worry that many elements of Japanese culture and etiquette are misunderstood or misrepresented?
Nawanojyoh: It is a wonderful thing that Kinbaku, as one Japanese traditional culture spreads on a global scale. Misinformation is a concern, but misunderstandings would be cleared up when people come to Japan and experience authentic Kinbaku.
Sin: Do you see a difference between Hojōjutsu prisoner punishment techniques and Kinbaku erotic rope-play?
Nawanojyoh: It is hard to explain. Originally, Kinbaku was a part of a ceremony at Shinto shrines since recorded history – tying the unclean in order to purify and rebirth them. Then it derived into tying criminals in the Edo Period (1603-1868). After that, tools to catch criminals changed from ropes to handcuffs.
Nowadays, Kinbaku has become an erotic tool. So yes, there is a difference between Hojōjutsu prisoner punishment techniques and Kinbaku erotic rope-play, but they are fundamentally the same.
Sin: What advice would you give to somebody interested in becoming involved in Kinbaku?
Nawanojyoh: The reason and the purpose might differ among people, but the basic is an agreement and a confidential relationship with a rope bottom, and not to just gratify one's own desire. When emotions such as 'I want a lover' or 'I want to play sex' are clear on someone's face, he is not attractive. Kinbaku, whip, wax play, Etc. might be awful things for common people, but it is our tendency to expect them for each other depending on a confidential relationship. Precisely because it is considered abnormal, we need to play more cautiously. Only then we can experience another pleasure.