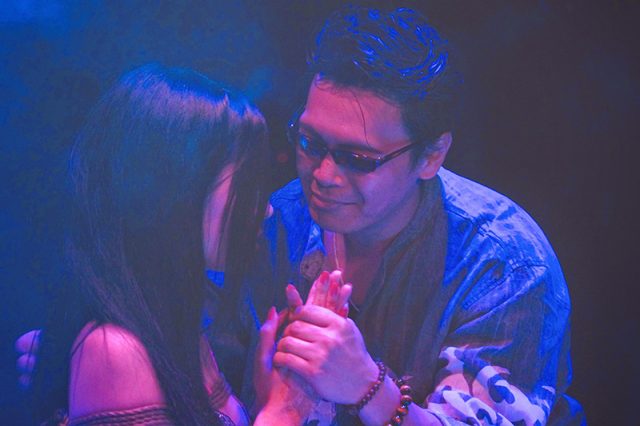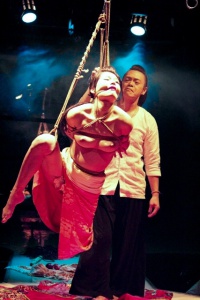 I first met kanna san dressed in a Japanese schoolgirls uniform at Nagare Aotsuki san's SM & Minority Bar MAJESTIC in Shinjuku, Tokyo, and witnessed at close range his incredible and distinctive kinbaku style – a blend of clean and functional Shibaru methods to tension by tying in a way that stretches tendons and muscles to add a completely different dynamic to semenawa. He proved to be a wonderfully friendly and open Nawashi, full of encouragement for anybody who understands the nature of sado-erotic Kinbaku rope-play beyond just the shibari rigging.
Sin: Kanna san, you are clearly heavily influenced by akechi denki san after coming to know him around 2000. Can you tell our readers what he was like as a person, and your relationship with him?
Kanna: First of all, let me tell you that I did not have such a long-standing relationship with Akechi sensei to be able to tell you so much about him. So I would like to tell you my personal feelings instead. Akechi sensei had such a warm personality, and when I first met him, I was just another person who was interested in Kinbaku, and not a Nawashi. I had seen Akechi sensei in videos, and when I had the chance to meet him in person and was able to talk a little with him, my first impression was a gentleman rather than a Nawashi. Then I started to research Akechi sensei's Shibaru style. I watched numerous live performances and met him many times. Then I started to act as a professional, wishing to be a Nawashi like him. Furthermore, being close to Akechi sensei I liked him more and more because he had a lot of challenging spirit and was friendly. I think he was always thinking of new Shibari tying techniques and enjoyable sadistic Kinbaku play. About two years later I asked Akechi sensei to give me the name of Akechi, and he gave me the name Akechi Kanna. However, the name raised an issue after Akechi sensei passed away, and I continued my professional activity just as Kanna without the name Akechi. For me, Akechi Denki sensei is the apotheosis of a Nawashi, a kind of a father figure, and a loving person. More than ten years have gone since he passed away, but my master of nawa is only Akechi sensei.
Sin: In 1995 you became transsexual and in 1998 began working as a Mistress. Is this where you first learnt Kinbaku and SM rope-play?
Kanna: I have not had any sexual transformation of my body, but I felt discomfort with my sexuality since childhood. I started to work at a she-male place when I was 22-years old, and then entered the world of SM in 1998. There I learnt Shibari out of necessity through self-education, and this was the start of my SM Kinbaku.
Sin: You were actively performing on stage as a Nawashi from 2000, and then you stopped. Can you tell me what year you stopped and the reason?
Kanna: I started in 2000, and stopped my Kinbaku activities in about 2006. I'd rather not talk about the reason, but Akechi sensei's death and many other things contributed to my decision. I wanted to get away from Kinbaku to think, so I decided to go silent for a while. Then in about 2010, after much deliberation I wanted to do Kinbaku again, and decided to come back.
Sin: In 2001 you opened Bug, a 'happening' bar in Ikebukuro, Tokyo attracting SM-interested members and bi-sexual women. At this time you also formed the group ARK comprising the late Akechi Denki san, Konoura Takumi san, Tennosuke san and yourself. Can you explain what the group was for, its goals and activities?
Kanna: The group ARK was originally organized for me to make my professional debut, and for bringing Akechi sensei's art into reality.
Sin: Sadly, Bug closed in June 2002, and you went on to manage SM happening bar Succubus, also in Ikebukuro. It was during this period in 2003 that Akechi Denki san made you his Deshi. Can you explain how he told you this, what it meant for you, and precisely (for a non-understanding gaijin reader) what being the Deshi of the late, great Akechi Denki san felt like?
Kanna: As I already answered earlier, I asked Akechi Denki sensei directly to make me his apprentice, because I dared to bear the responsibility of being a Nawashi assuming the great name of Akechi. Taking his Shibaru in my heart I became his apprentice with the feelings of tying women and submissives. Since Akechi sensei was a Japanese-style building craftsman by trade, I learnt Shibaru directly from him for just for one day. But it was such a valuable day for me. Then I watched his shows, copied his technique, thought about that in my own way, and began created my own interpretations. In my heart, I am still an apprentice of Akechi and I am still Akechi Kanna.
Sin: After several years of inactivity, you reappeared on the scene again in 2009 under the name Nawajiro and in December 2010 resumed performances as Kanna. What made you leave the scene, and what made you want to return?
Kanna: As I said earlier, I cannot talk in detail about my reasons for stopping, but there was no special incident which made me want to return. I was even surprised with myself that I suddenly experienced a desire to return, so I did.
Sin: As with Akechi Denki san before you, you are also an enthusiastic devotee of the investigation of hojojutsu techniques. Is this where you discovered the art of stretching and tensioning limbs and muscles?
Kanna: There are inspirations and ideas that come from Hojojutsu, but there are more that come from other things. For example, figure skating and ballet can be influential in the ideas of forms. Many things can give ideas.
Sin: You founded Kannawakai Kishindenshin in November 2011 to teach Shibari and have since increased your activities, including traveling to Europe and The USA to teach and perform. Do you enjoy teaching, and would you say that the number of people interested in Kinbaku has steadily increased?
Kanna: To be honest I had no idea how to do workshops overseas. At first it was extremely tough for me to teach overseas because of the difference of language and culture. But, now I am really enjoying teaching Shibari to Kinbaku enthusiasts overseas. Nowadays, Kinbaku is becoming a major act in Japan and also overseas, so the number of people who enjoy it is certainly increasing comparing with ten years ago and it will continue to increase.
Sin: When we met we talked about Kinbaku and how its sado-masochistic elements seem to be mostly overlooked outside of Japan. Do you feel that many are missing the important aspects of Kinbaku beyond the rigging?
Kanna: Well, this is my personal opinion and it is applied to both Japan and overseas. I think people get too conscious about the katachi form of Shibari too much: [they think that] Kinbaku = straitjacket. However, Kinbaku is a restraint and also a good instrument of torture. I believe Asanawa has a mystic power. The things you strongly imagine will convey to the other party through Asanawa, then the other party becomes aroused. Kinbaku is something to tie up the body and free the mind with rope, so it's a waste if you do not take thought for the other party in a lot of ways, and seriously care for the desire of the other party. Then the other party will react, and this interchange is fun while doing Kinbaku.
Sin: Do you believe that maybe it is the culture of the non-Japanese rope bottom submissive and the differences between Japanese and gaijin taboos that make understanding the deeper elements of sado-erotic Kinbaku rope-play (Kotobazeme, Shuuchinawa, purification, release, Etc.) more difficult?
Kanna: Yes, this might be the difference in culture. Right from the beginning Japanese Kinbaku is erotic-centered and is a style to tie for doing erotic things. Kinbaku was something hidden underground, but things have changed so much and people are disclosing it everywhere using social media nowadays. But, originally Japanese culture does not disclose sex and keeps it secret. Overseas, it looks as if riggers are doing technical presentations, and I feel its Shibari is one-sided and egotistic. I hear some people overseas say things like "Since your body is not flexible, I cannot do this Shibari." You should not blame the other party. It is natural that a body is not flexible and we should think to contrive ways to tie up an inflexible body. It is not the model's fault when you miss something, and you should realize that it is because of an immature rope top.
Sin: Do you have any advice to help the non-Japanese who are interested in Kinbaku to enjoy at a deeper level?
Kanna: Nowadays people are enjoying Kinbaku all over the world, and many Kinbakushi go overseas from Japan to do workshops. But when you have mastered Shibari on some level you ought to decide on one teacher. Decide the one that fits to your own Shibaru style and pursue the teacher's Shibaru techniques. If you learn from many people you will get confused because each of them has a different Shibaru technique and way of thinking, so when you have mastered Shibari to a certain level, you should decide on only one teacher.
Kanna san regularly holds workshops at his Shinbakuan bondage salon in Hamamatsu, and is available for 1-on-1 tuition for private lessons in Japan.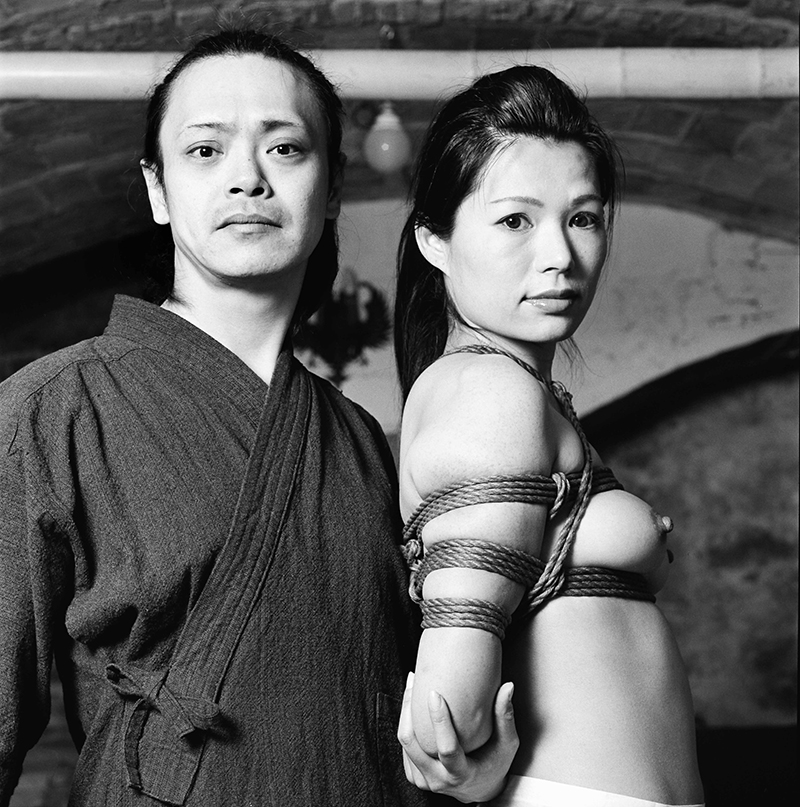 Please make contact via [email protected]