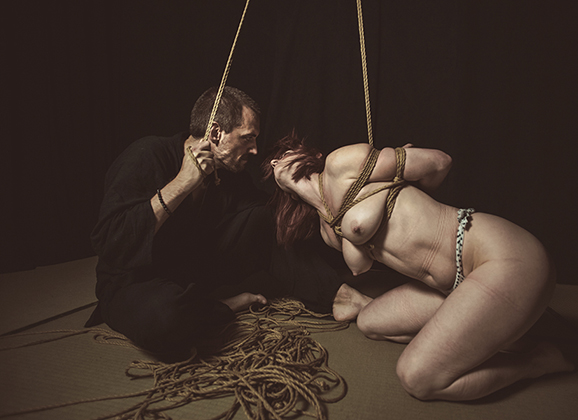 The art of tight binding
Japanese Rope bondage is often called shibari or kinbaku, terms used interchangeably by the Japanese. Shibari literally means "to bind" and Kinbaku means "tight binding". The word Shibari came into common language more recently, and outside the erotic world it does not necessarily identify a form of Bondage.
In Shibari the emphasis is not placed on the binding itself, but on how the rope is placed from the Rigger (in japanese kinbakushi), so as to become an extension of his hands, and on the relationship of intimacy so created. In short, the Japanese bondage concerns more the path that leads to the final result, than the result itself.
Kinbaku, unlike the Western bondage, is not a practice, but a real discipline, which involves what the Japanese call "kokoro", i.e. "the heart, spirit and mind", things can not be acquired through the mere knowledge of techniques and knots.
Today Japanese Bondage is not only a form of sadomasochistic constraint, but has become a real artistic expression, where the Rigger creates a sculpture by shaping the human body through ropes.
So what is a kinbaku session?
Pretty difficult to explain to those who have not ever lived or ever had the luck to see one.
A Kinbaku session is a Power exchange session, through the use of ropes. The Rigger, in Japanese Kinbakushi, builds the session on the basis of what the person tied inspires and suggests through emotional and physical reactions to ropes. During a Shibari session, the person that gets tied experiences different strong emotions, which can also be initially difficult to manage, especially if never been tied before.
Hence the importance of relying on a Rigger who can take care of psycho-physical balance of the person.
Being forced and immobilized for many people can turn into a true liberation. It is known that in some forms of autism one of the remedies to make the patient feel safe is to embrace him/her strong, making him/her feel immobilized.
Probably the fact that they must necessarily give up, and feeling the pressure of ropes on skin and body, when bound, produces an effect similar to that of a vigorous embrace, thus promoting a strong release of endorphins, and producing a great sense of relaxation, tension release and abandonment, as if he/she was subject to a very intense massage.
As we know, in many of those who want to be tied, exists at least in part a nature eager to submission, to yield control to someone who is tying.
In addition the positions and pressures inflicted by the ropes are not always easy to manage, and sometimes are even painful.
This stimulation then, through the ropes, or through other beating-whipping tools during the tying itself, trigger not only physical reactions that, thanks to breathe control, can evolve into a strong eroticisation the pain itself, becomes for those who get tied, a sensitive signal of the fact that you are "offering" yourself to the other, and this can really create a sense of absolute freedom.
In a floor tie, or a suspension, or even simply feeling the sensation of the rope passed all over the body from the Rigger with intensity and passion, as if the ropes were an extension of the hands, may even cause many people experience what is called "rope-space", a state close to a trance, in which body and mind are completely in a state of grace and abandon.
This condition often results in tears when you are untied, as if every return to the "reality" would create a kind of minor trauma, so nice was staying in that condition.
The experience of being tied has among its primary effects an intense erotic sensation, which comes directly from the act of tying: a good Rigger passes the rope on the skin in a sensual way, uses it to pat, shake, move, hold and deter, coerce and manipulate the body of the person bound.
It 's a thrilling and exciting experience even for the viewer, so much true that in Japan this is the most popular type of erotic show.
Depending on whether the emphasis is placed on sensual or erotic or power exchange aspect of the session, we can, through a session of Kinbaku, awake in the viewer feelings and emotions always very strong and persistent.
Please contact us if you wish info and rates for private shows and sessions.
In the words of Agnès Giard:
Beauty is in the emotion that emanates from the scene, in the confusion shown by the actors. It is not about "making art" but about "making emotion", and at times it is necessary to destroy beauty, to humiliate someone, to put someone upside down, to make them ugly, because beauty is a mask and the mask must fall so that deeper things can rise such as anger, fear or shame. In Japan, at least, it is the goal. Shibari must serve to reveal something. It is a violent action to force the tied person to go into their most intimate entranchments. When they let the "mask fall", a woman shows herself naked, especially in this country that gives to the eyes the same value that the sexual organ has in our world. Eyes make love. A person with reversed eyes, who tumbles in their emotions, it's something very disturbing, at times something very upsetting to see. Shibari shows that: the opening of the soul.
Words from a Bottom (Mapleabroad):
One of the best ways of describing what kinbaku is is through the own words of a bottom. This writing, Called " Being Undone: The Eroticism of Rope", was written by Mapleabroad after her first session with Wildties.
I feel his breath on my neck. I close my eyes to absorb the eroticism of the moment, and what I know is to come. I am in a submissive pose, kneeling with my buttocks resting on my heels, my head bowed slightly forward, my hands before me. My pulse races, though my tightly tied kimono restricts my inhalations. Japanese music plays softly in the background, transporting me to another place.
His body surrounds me, taking ownership and claiming me though his hands have not yet touched me. He pulls in closer, his head now resting in the crook of my neck. He inhales deeply; he is breathing me in, smelling me like an animal smells another. He grunts animal-like, and then grabs my hair, pulling it back to further expose my neck. Shivers run down my spine.
I smell the ropes before I feel them, the smell of bondage, submission, suffering, ecstasy. Then those telltale sounds… the rope being hit on the mat, being unwound, ready to be used. I wait silently, anticipating that first moment. Then his hands are on me, holding me in place while he begins to envelop me, the ropes an extension of him.
My arms are first to be subdued, tightly fixed behind my back. A second rope crosses my upper torso and my back. He stops to claim and to smell again, his hand grasping my throat and pulling me towards him. I am breathless and I bend to his will. I am already undone and we are just beginning.
The ropes, his hands, move down to below my breasts, wrapping them like a gift that he awards himself. Then I am pulled up onto my knees, the upper ropes attached to the bamboo beam above us. The tying continues down my body, binding my abdomen, my butt, my upper legs, my knees. With each rope, my movements become further restricted, my breathing more laboured, and yet I have never felt more free. The freedom, the release, is intoxicating.
My eyes remain closed but I can feel his stare, his mind contemplating his next move. He is grunting again and then his hands are back on me. He slowly but forcibly rips open the kimono, exposing my naked body underneath, first my breasts, then my torso and my legs. His hand pulls on the bindings behind me to produce more tension on the ropes. I am inhaling but forget to exhale. He is whispering to me: 'Breathe it out'. My body shivers yet again.
It occurs to me that throughout this experience few words are spoken, none are necessary. His ropes, his hands, communicate his intention: They let me know that I am there for his sensory pleasure. I feel his eyes scanning my body, admiring his work, and enjoying my predicament, my exposure and discomfort, my undoing.
From my subspace haze, I feel my legs being pulled from beneath me and in moments I'm suspended upside down. Every muscle, every joint, every fibre of my being is alive and screaming. The tension takes my breath away until my body eases into this new discomfort. Almost to offset the pain, I feel small drops of pleasurable heat on my body. The wax spills onto my face, my breasts, my stomach. The feeling is magnificent and arouses me beyond words. I crave more: more drops, more heat, more arousal.
I hear him pull away from me and say: ' You look so beautiful.' And the truth is that I have never felt more beautiful, in my vulnerability, my exposure, my pain, my complete submission to his hands and his rope.
He is back to me now. My eyes remain closed but I feel his breath brushing my shoulder. He is sitting next to me and his hands are grabbing my hair once more, a reminder of his dominance and control. I am moaning; the sounds of discomfort and pure ecstasy emerge from deep within me. He is whispering again: 'Breathe it out'.
I do as he says but what I really want is to breathe it in, to imprint the pain and the pleasure onto my body and mind like a tattoo, to hold onto this feeling, to draw it into me in order to call upon it later, when I need to remember the feeling of my undoing, of my freedom.