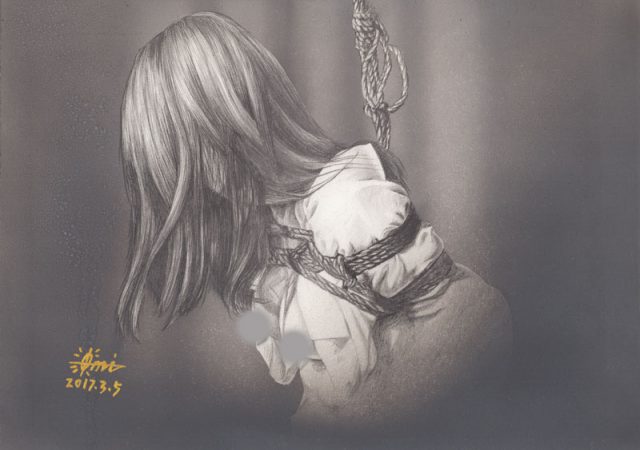 A graduate of Musashino Art University, Tokyo, Ōmi Kazuhiro san is a fine artist following in the footsteps of Tsukioka Yoshitoshi, Ito Seiu, Suma Toshiyuki, Ozuma Kaname, Muku Yoji, etc. in applying his skills to the eroticism and sadomasochism of rope bondage.
Working as a commercial illustrator, winning several awards, Ōmi san first began to learn kinbaku at Hajime Kinoko's Ichinawakai in June 2015, predominantly to draw other people's tying. It wasn't too long before he progressed to tying his own models, capturing the images with photography, and replicating in drawings.
Fetishism, and illustrating female genitals were themes attracting Ōmi san for several years. Japan has strict laws regarding the distribution and exhibition of what the police can determine obscene sexual imagery. For example, the internationally renowned photographer, Shinoyama Kishin's 1991 photoshoot of the actress Higuchi Kanako, which dared to clearly show pubic hair for his 'Water Fruit' collection went unpunished, probably due to their fame. Others may have been arrested, and photographers always have to be very careful not to circumvent the law. However, nude art, drawn or painted, permits depictions clearly showing genitals where the police are less likely to adjudge improper, unless they feel the subject strays into an area of taboo.
Ōmi san's interest is to capture the image as it is, and not hide anything, including erogenous areas, because these are a specific focus of the eroticism of kinbaku. Furthermore, it could also be the case the viewer finds this subject easier to accept presented in drawn, rather than photographic form.
The absurdity is that nudity is everywhere in our daily lives, and like many of us, Ōmi san sees the paradox of the flood of erotic expressionism constantly contained within advertising: posters, hanging adverts on the Metro, TV commercials, etc. Pink flyers are unceremoniously posted in letterboxes, and in Japan, access to foreign adult, and even hate websites is available.
Rather than modify art, like the airbrushing, or pixilation of genitalia to avoid breaking the law, Ōmi san wants to show life, and the female form, strong and beautiful, without reservation. He wants this not for fame or financial gain, but to be honest and true, and for the viewer to accept and recognize the nude and erotic expression without guilt.
Ōmi Kazuhiro's work and exhibition details can be found at
http://kazuhiro-oumi.tumblr.com/
https://kazuhiro-omi.wixsite.com/gallery