sugiura norio recently marked his nearly half-century in bondage photography with a large-scale retrospective in Tokyo and publication of a deluxe book of his photographs.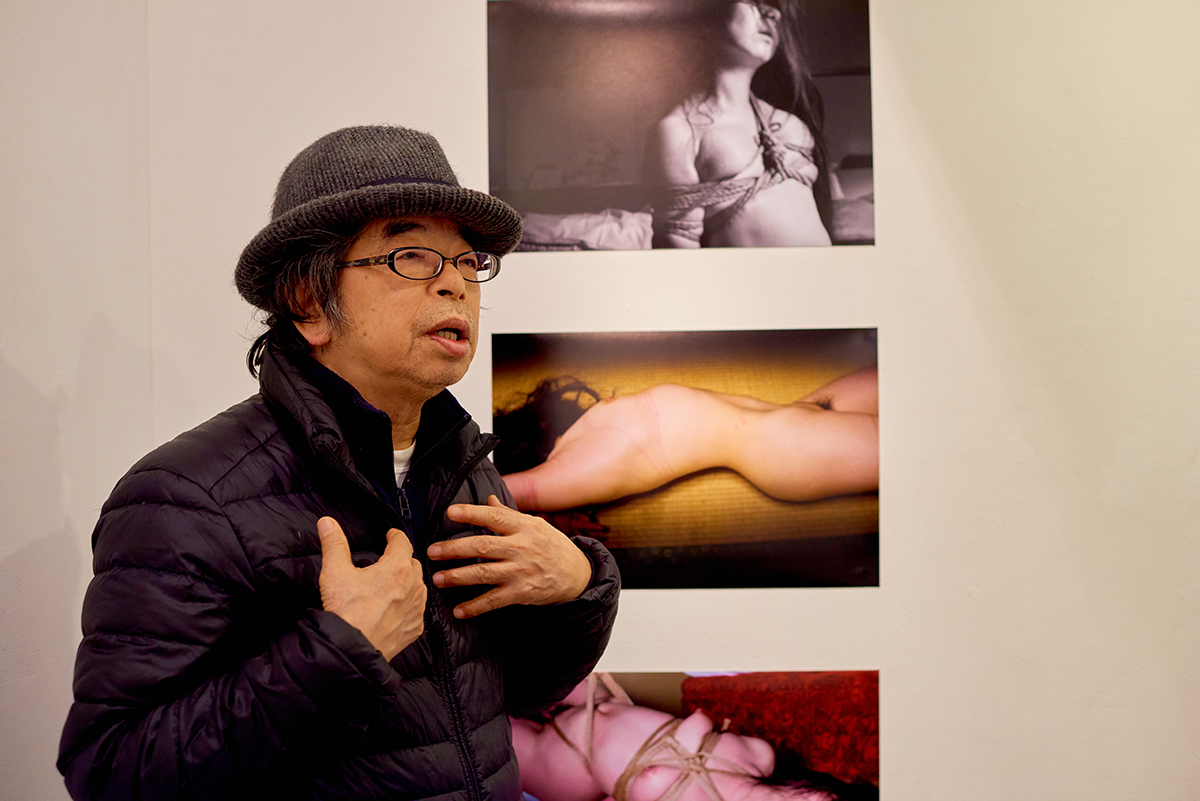 The exhibition, held Feb. 2-7 across two floors in a gallery in Tokyo's trendy Harajuku district, attracted about 500 visitors, many of whom had contributed to a crowd-funding campaign that made the event possible. Titled Nawa no Jiba ("The Magnetic Field of Rope"), the show presented approximately 100 photographs from throughout Sugiura's career, ranging from the 1970s to the present.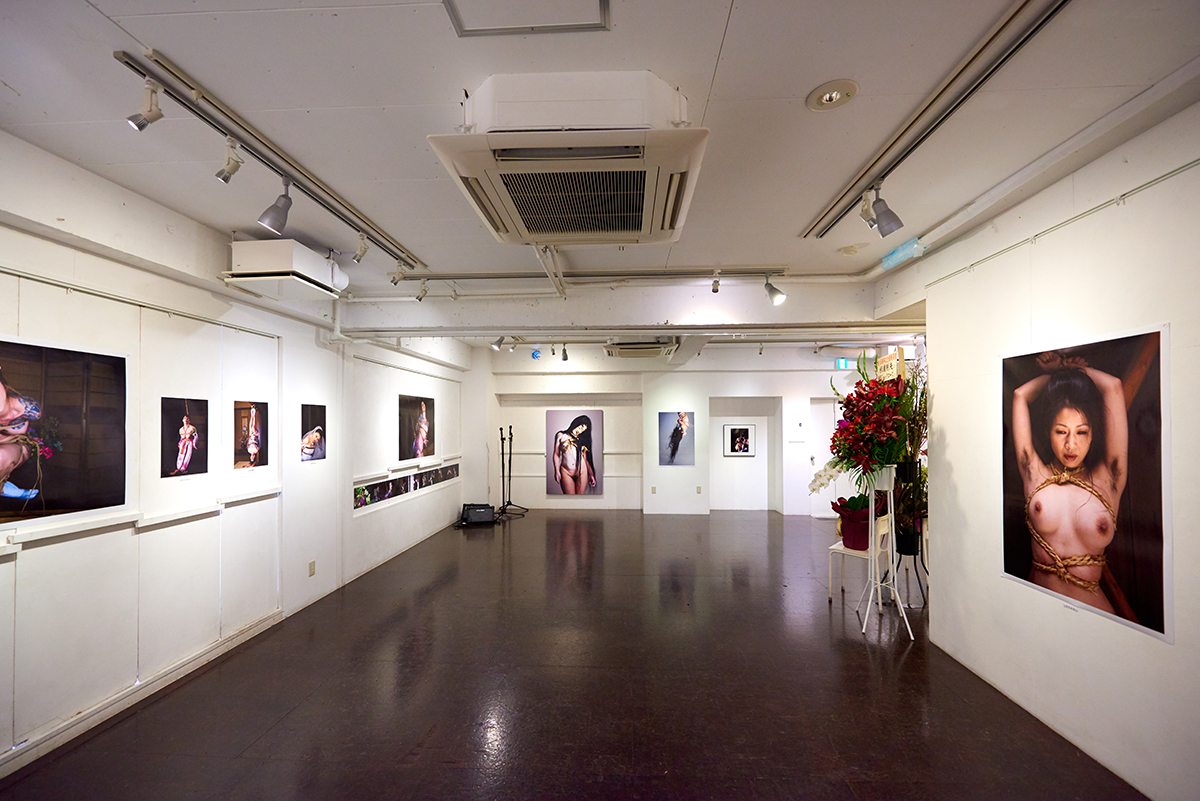 At a pre-opening event held Jan. 24 at the Jack Rose SM bar in Shinbashi and attended by bakushi naka akira and many of the models who have worked with Sugiura over the years, the photographer described the six months of grueling preparation that went into the exhibition and book. "Selecting the images was, by far, the most difficult part," he said. "How could I set aside a photograph when a woman had given me a part of herself for the making of it? Each time I had to eliminate an image, I felt as if I was doing a terrible disservice to the woman who had allowed me to photograph her. It was, truly, a very painful process."  Sugiura estimates that he sorted through 3,000 film negatives and 10,000 digital files to arrive at his final selections.
Sugiura first started photographing women in rope in the 1970s, while working as a young assistant at Dan Oniroku's production company, Oni Pro. He was brought on to help with production of the so-called "pink films," titillating movies with some sexual and SM content, as well as the live shows offered between films. During his tenure at Oni Pro he met and worked with some of the other great figures of early post-war SM publishing, including Minomura Kō and Tsujimura Takashi.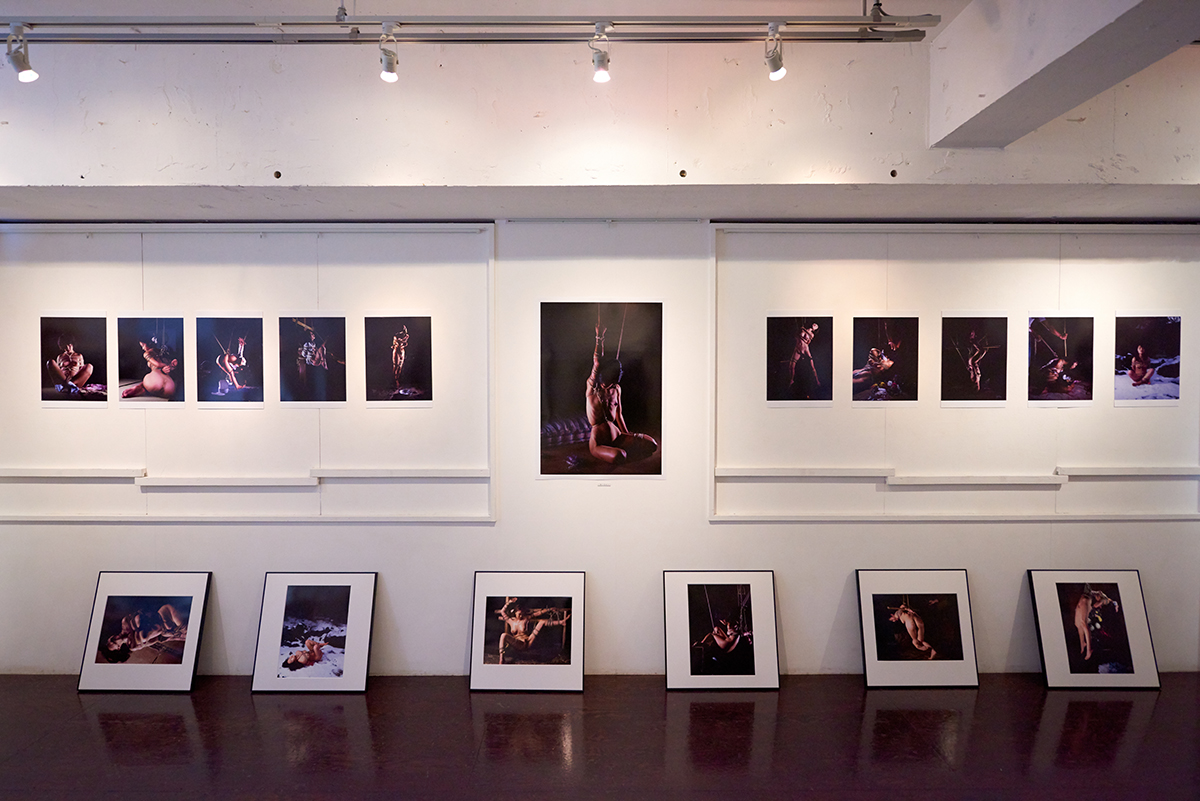 Later, as the photo editor for Oni Pro's magazine SM King, Sugiura familiarized himself with the basics of photography and began to do shoots himself.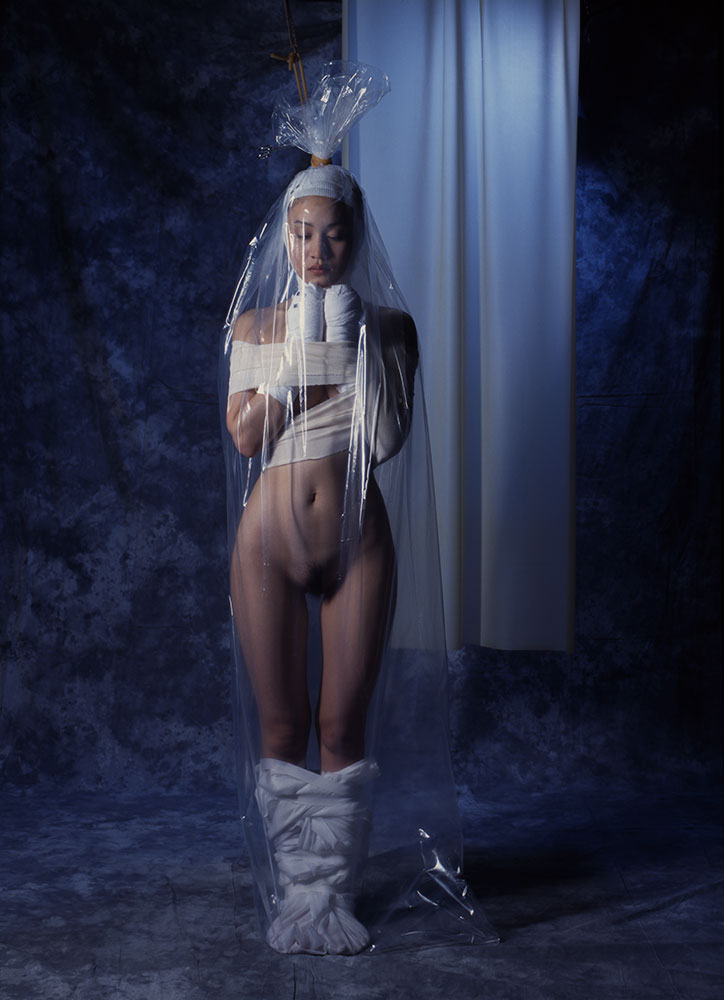 Soon, Sugiura's bondage photographs were featured in the most visible positions in top SM magazines, including SM Select, SM Mania and SM Hi-Shōsetsu (SM Secret Novels).  In the 1980s he began his famous and long-running collaboration with the late nureki chimuo, one of Japan's top bakushi until his death in 2013.
Since 2009, he has worked closely with bakushi Naka Akira, and traveled overseas with him, but has also collaborated at one time or another with most of the other well-known riggers in Japan.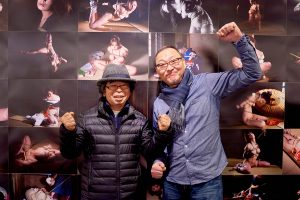 Although most of Sugiura's oeuvre over the years has been commercial, produced for magazines and videos and for sale on his own site, the exhibition and book include some new and very striking work that he says best represents his personal feelings about SM and the beauty of a woman in bondage.
The rope work for these photos he did himself.  Sugiura, who turns 76 in April, only recently got serious about learning to tie. "Throughout my career, I've always left the bondage to someone else, in effect putting a layer of distance – 'one cushion,' as we say in Japanese – between myself and the woman."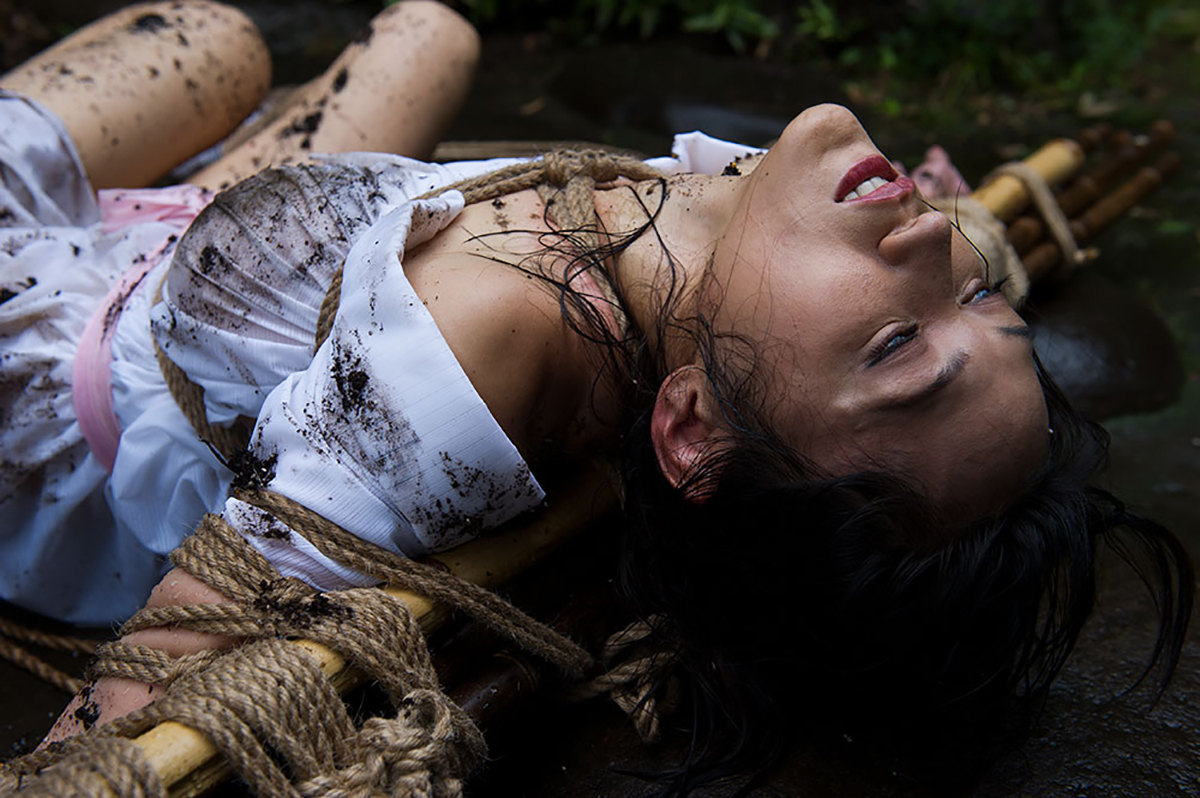 That changed, however when he met Miho, his current partner and the model featured in some of the most outstanding photographs in the exhibition. "With Miho, I wanted to be able to tie her myself," he explained in an interview. "I didn't want anyone between us." That intimacy shows both in the model's expression and Sugiura's camera work.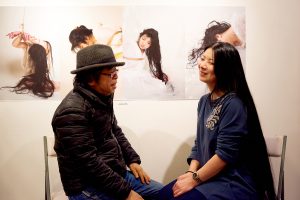 At the exhibition, Sugiura released an epic collection of some 130 of the photographs that he feels best represents his long career in bondage photography.  Titled "Showa, Heisei: 45 Sugiura Norio (1972-2017)," it is hard cover, printed on high quality paper, comes with a slip cover and is very large – 37 x 26 cms (14.5 x 10.5 inches). The photos are all in color and not censored with pixilation (i.e., genitals and other sensitive body parts are not obscured). Almost all of the photographs are full-page in size; some occupy two facing pages across the full width of the open book.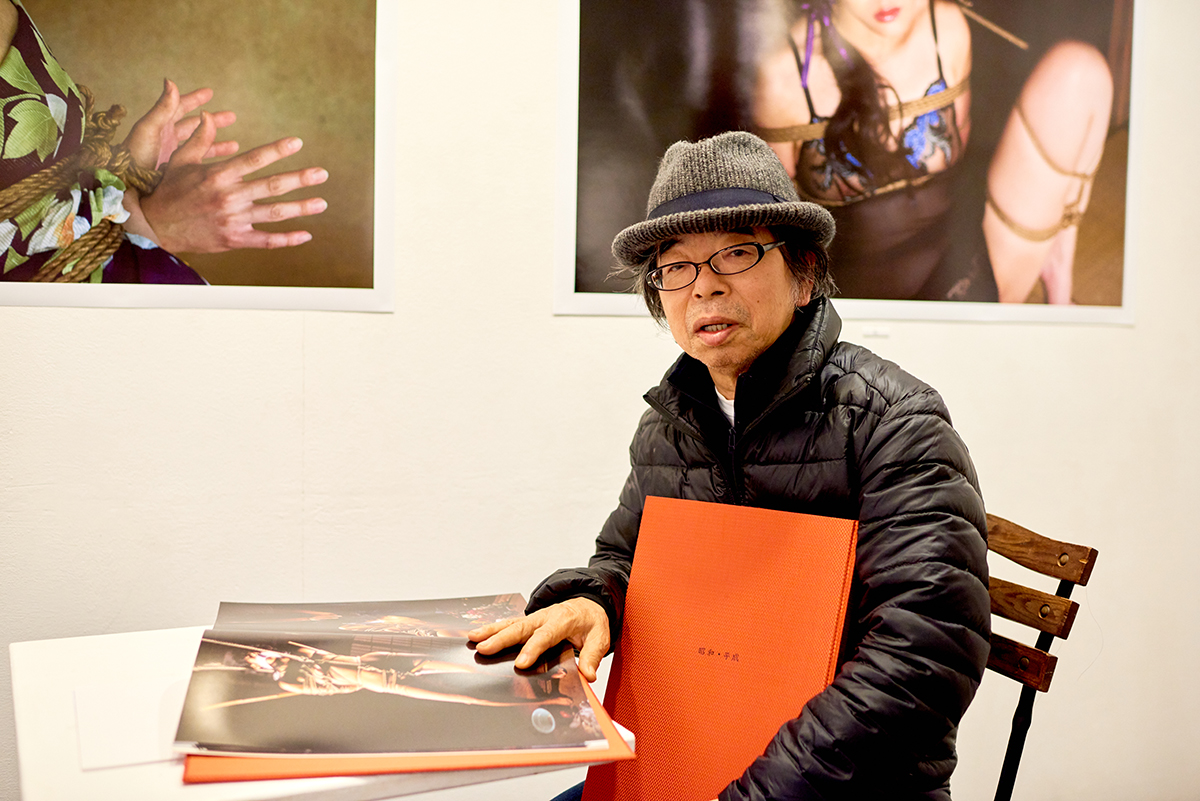 Models of different ages and body types are featured, in a multitude of poses and various states of suffering, including – as one would expect from Japan's premiere bondage photographer – lovely images of women in kimono in Japanese interiors. There is also a short series of current super-star model Kawakami Yu, from before she became quite so famous, posed lovingly in a white wedding dress (and then thoroughly defiled). The bondage in the book was done by quite a number of bakushi, including Shima Shiko, Nureki Chimuo, Naka Akira, Karino Chiaki, Osada Steve, Hajime Kinoko and Hourai Kasumi. It's interesting to compare and contrast their styles, and how Sugiura's light and composition changes along with his collaborators.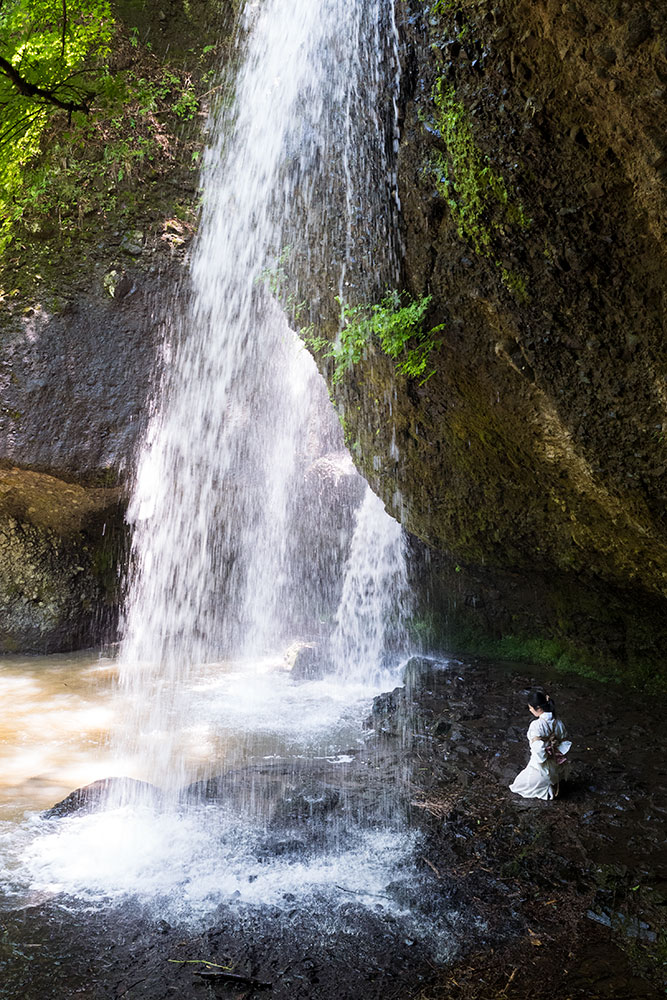 This book is as historic as it is beautiful but has limitations as a historical document because there are no captions or accompanying information of the models, the year shot, who did the bondage or where the photographs were originally published. "It would, of course, have been better if we could have included such identification," Sugiura allowed in an interview at the exhibition. "But there simply wasn't time." (SM sleuths the world over will be busy for months, trying to match up photos to the publications in which they first appeared, but be forewarned that some have not been previously published.)
Sugiura hopes to take the exhibition on the road to other cities in Japan, with Osaka and Nagoya the most likely candidates, but nothing had been decided at the time of the Tokyo exhibition.  He'd also love to show his photographs overseas. In the meantime, he will continue his work as a professional bondage photographer while also putting time and effort into taking the more personal, artistic works he's been working on with Miho.
"I've been shooting for 45 years, but I still haven't produced a single image that completely satisfies me," Sugiura confessed in the pre-exhibition event. Hard as that is to believe, we look forward to his future work as he strives towards that goal.
Copyright Notice
Norio Sugiura's works are copyright of Norio Sugiura Photo Office.  Any reproduction of work for purposes beyond the boundaries of personal use as well as any actions that allow for distribution of work over a network is prohibited.
To purchase collections of Sugiura Norio's photographs for instant download, ordering in English and with international credit cards, please visit: www.japanesebound.com/product-category/photo-collections/
Videos from his beautiful kinbaku Kinema series are also available at https://www.japanesebound.com/product-category/kinbaku/kinbaku-kinema/
A more extensive selection is available on the photographer's Japanese-language website:  www.sugiuranorio.jp 
A more extensive selection is available on the photographer's English-language website: 
www.sugiuranorio.jp/e/
Copies of the "Showa, Heisei: 45 Sugiura Norio" photo book can be ordered for $200 plus shipping by contacting  [email protected] It is also possible to order prints of specific photographs.