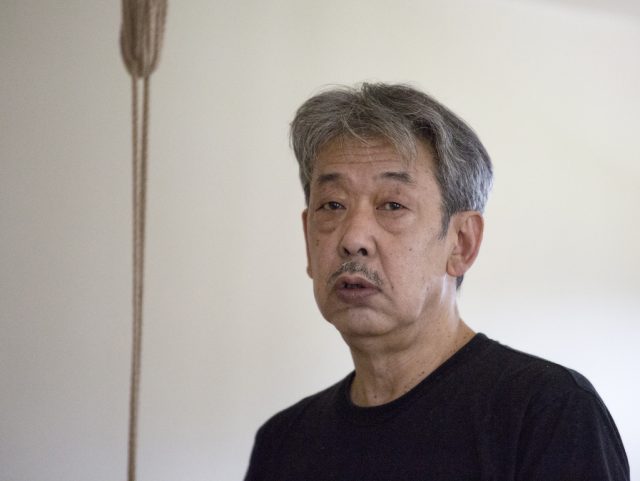 Today, March 3rd, is the fifth anniversary of the passing of yukimura Haruki, a man I was proud to call my teacher and my friend.
There was something special, even magical, about the place I used to meet with him. A small room in Ebisu with a small space to tie, his desk and books spread all asunder, and a few other rooms in the apartment space.
There we would talk, drink tea, laugh, and tie.
I first met him in 2011, during a visit to Tokyo and I was immediately struck by his easy going manner, his gentle demeanor and his sense of humor. I had just purchased a copy of Transbody Bondage, one of the truly great bondage photo books, and when he saw my copy, he immediate brought out his brush and ink and signed it for me in true Yukimura style.
It was truly inspiring.
I never imagined at that moment that I would end up back there as a student or hosting him for a two week visit to Los Angeles.
He was already sick when he came to LA in December of 2012. None of us knew that at the time, but it was important to him to visit and to teach. Because what he had to share was truly unique. The number of people who took the workshop with him and described it as life changing was remarkable, though for anyone who met him, not surprising.
I don't know how many times I got to Tokyo for lessons, but it was usually a few times a year. I didn't keep count. But each time I did, I came away refreshed, rejuvenated, and recommitted to better understanding how I could use rope to better communicate with the people I care about.
I suspect that Yukimura sensei taught all of his students in different ways. For me, our lessons were always about communication and using rope to communicate feeling, emotion, and desire. Eroticism, play, pleasure, and sex were all a part of that. For Yukimura tying was storytelling. Usually dirty storytelling. There were many other aspects to his rope: performance, videos, even decorative tying for photo shoots. We didn't have the time to explore it all. I felt incredibly lucky to have the time with him that I did.
What I was able to explore left me with a very deep and very passionate desire to pass on what he taught me, which I continue to do. To learn to tie with my heart, not my hands.
When I teach now, I most often teach beginners; people who are brand new to rope. They usually are looking for a way to add something to their sex life, to their relationship, or to their connection with each other. It is one of my greatest joys to see the ties that Yukimura taught me and the philosophy that he shared with me open people up to new erotic possibilities.
I think that would make him happy too.