Editor's Note: This post is a repost of NuitdeTokyo's post from his Fetlife Group (Japan SM), reposted with permission.
Dear all,
A recent post was making a distinction between hojojutsu and Edo torture rope, and indicated that the source of Showa sm was more on the Edo torture rope side.
And then I noticed that some readers might find what I called "Edo torture rope" a bit abstract.
The first remark is that, in the first half of the twentieth century (end of Meiji, Taisho, early Showa), there was a very large number of publications both in books and magazine devoted to « criminology » (犯罪科学, in the wide sense, and that many of these books depicted traditional Edo torture methods.
As mentioned in the other post, there is, on the other hand, much less publication about hojojutsu until the work of Seiko Fujita.
One of the easiest to find is the 13th volume of 近代犯罪科学全集, Kindai hanzai kagaku zenshū, Complete works of contemporary criminology, published in 1930 (Showa 5)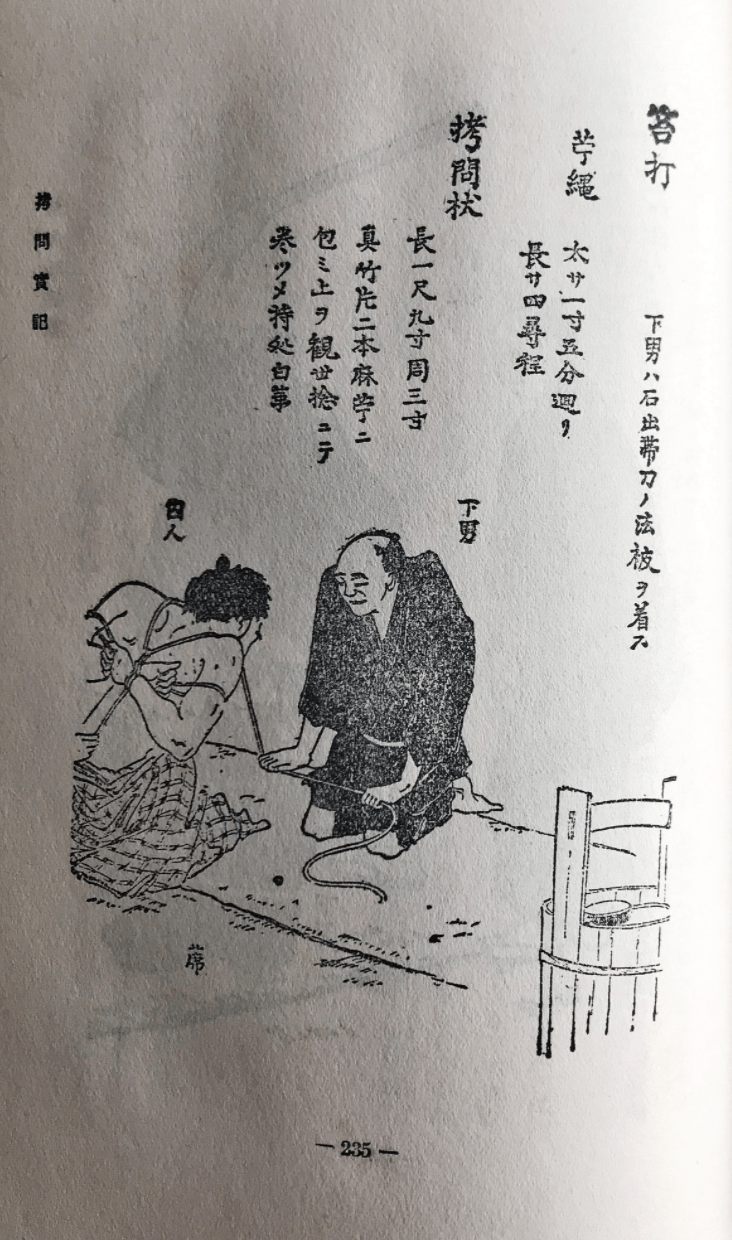 For people into rope manufacturing, they may want to note that this image indicates that the rope is made of Ramie (苧 Karamushi in Japanese, aka Boehmeria Nivea), that its length is four fathoms (quatre brasses, ie 7.3 meters) and the circumference is one inch and a half, so the diameter is 7mm, which is not too far from present dimensions. I am waiting for ramie rope though…
On the same image, it is indicated that the rope is held by a «  genan » ( 下男, litt. A below man, a servant) someone who had absolutely no knowledge access to formal hojojutsu, which kind of confirms our view that Edo torture rope is unrelated to hojojutsu.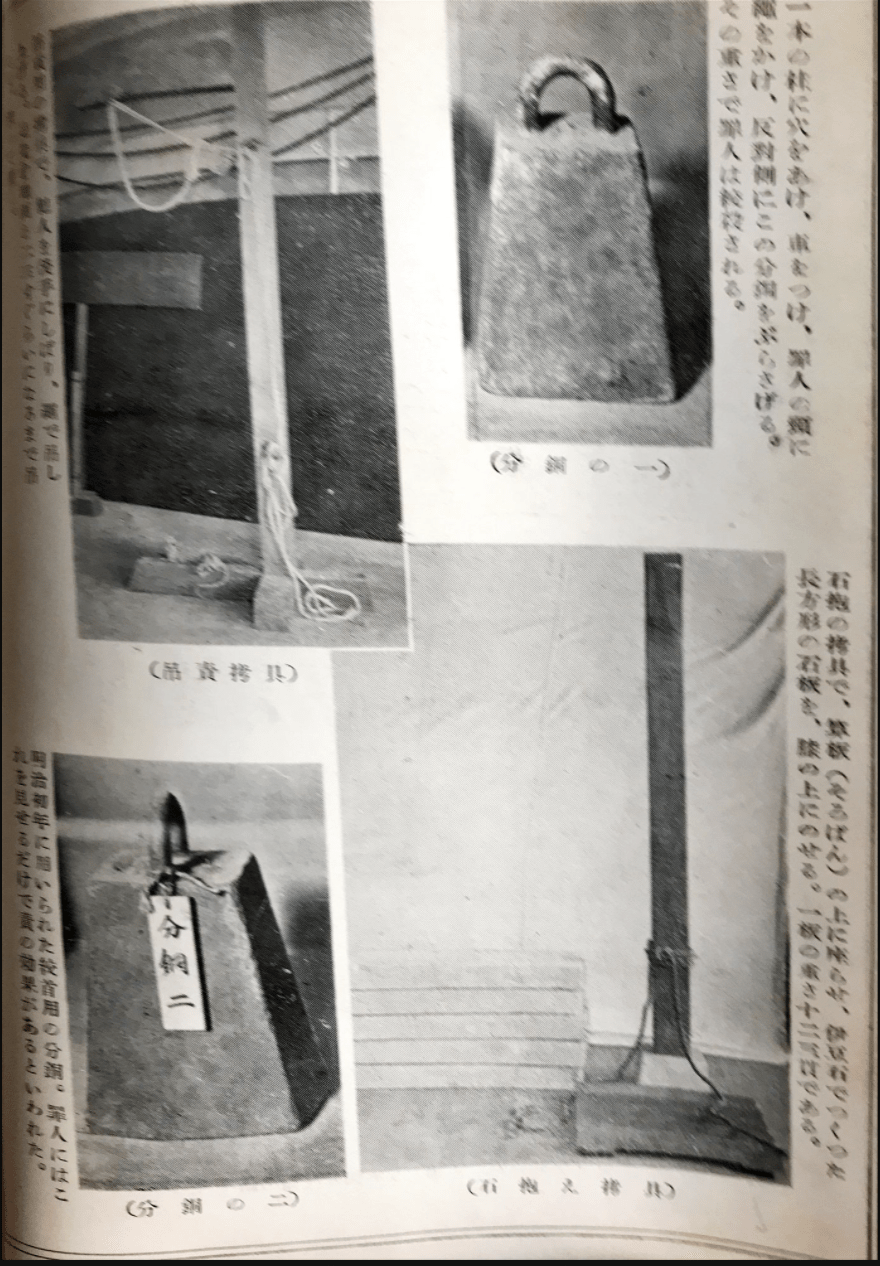 There is no doubt that when Itoh Seiyu published his Nihon keibatsu fūzoku zukan 日本刑罰風俗図史 in 1948 (the photo refers the 1951 edition), he was well aware of the many books on the subject that preceded it.
His book, imho was intended, like his historical works of Edo period to be reasonably accurate, and it includes photos of actual torture apparatus (In case you were wondering about the origins of « hashira tying… »).
So what is of interest are his depiction of ropes and you can see here, here that he is essentially reproducing the rope pattern described by Yoshitoshi
and discussed in the previous post or these images below (can you spot the yakuza ?) he is depicting very simple rope wrapping of the body.
While here his debt to previous books is (hum…) rather clear…
Interestingly, the book Complete works of contemporary criminology above does include some significant hojojutsu quick rope information. But Itoh Seiyu did not draw inspiration from that information.
So it seems to me that it is reasonable to infer that Itoh Seiyu never intended to depict a relationship between Edo torture rope and Hojojutsu and never attempted to depict hojojutsu patterns.
On the reverse, the relationship between his rope and Edo torture rope appear quite strong, and his interest for Edo torture methods does hint to a relationship between Showa sm and that history of public torture during the Edo period.
We could of course develop the relationship between public exposure of criminals and shame, and its implications for the use of shame in Showa sm. But it might be for another post…
So, if I have to summarize, it appears to me (but I could be wrong) that, as Nawashi kanna and kagura pointed out in their blog post, there is no real link between Showa sm and Hojojutsu.
But… (imho)
There is a very strong link between Showa SM and Edo Torture methods, and the many publications about these methods in the early part of the 20th century…