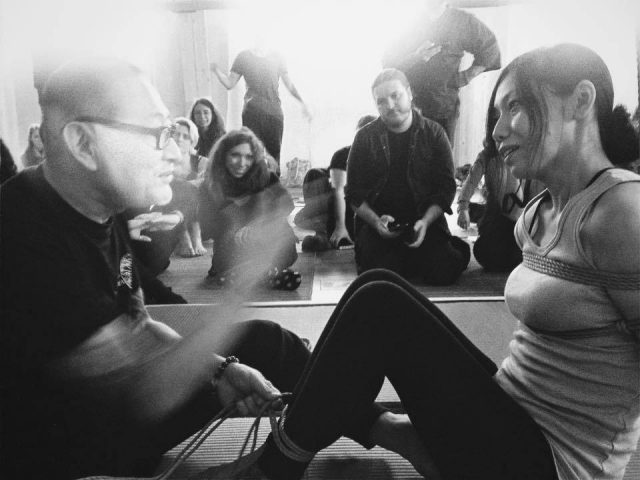 Naka san's workshop ended last week and we all left Turin with our hearts full of emotions. Students came from all over Europe to attend this event and they all went back home immensely moved. I was glad to read that Iroha Shizuki san, Akihiko Nakamura san and his son arrived safely to Japan.
This morning when I've opened my FB I've been submerged by all the warm messages and emotional posts that they've all written about the past days spent with Naka san. So many people said with tears in the eyes "what we have learned from him and shared with both of them, we will never forget!…"
Also…Riccardo Sergnese who is considered by Naka san as being the 'ichiban deshi' (his first disciple) and his angel Red Sabbath were with Naka san, his son and iroha like a true family. Always by their side, no matter what. So warmly attentioned. I felt their bond was destiny and it will be unchanged forever.
During this week I could truly say : Naka san, you are loved and cherished by so many people all around the world!…
So I will share again what Naka san said in Turin : " kinbaku is beautiful because the most important thing is our heart being able to give and think for others, then we should be free, free from any shapes because this is not what does really matter; what matters is to learn from our humanity, that every single person make it it's own, using Naka style as a base but growing from it, to have the courage to fight for something true, to face ourselves and the one we tie, to understand the weight of life, to always go further true to ourselves."
This workshop and moments were really emotional.
Many times as a translator I struggled with tears coming to my eyes…But I knew if I cried, for sure the whole class will start to cry with me. Then I kept them hidden as much as possible during the class. But during Naka san's show on saturday evening, I couldn't no more and when I saw Iroha Shizuki, all the tears came out and I cried a river.
Because everytime I see them both doing what they do, being so true, couldn't stop feeling all the things they share, all the things they give, couldn't stop cherishing this bittersweetness…
Because life is so precious…
Because saying how much we love is so important…
So everytime I feel grateful when I see this.
To be alive. I'm so glad to be alive.
For me kinbaku is like life itself : if you're hurt, if you're in pain, there's no need to keep it all for yourself. It is because it hurts that we should share the pain with the few people we truly feel close to. It could be happiness, joy, suffering, smiles or tears, if we share everything, we will one day for sure be glad to have overcome every moment with worthy people. it could be love, it could be friendship.
No need to push ourselves being strong all the time.
There will always be someone who will be here by our side.
There will always be someone who will understand us even a bit.
This attention towards others is beauty.
***
I feel grateful to Riccardo Sergnese and Red Sabbath to have trusted me again for this project and to have called me to be part of all this. I would like to thank all the students who came with all their passion from all over Europe. I would like to thank all the people who support Kinbaku LuXuria and also helped and did great efforts to give a hand during this event as a team. To Giuseppe Ambrosia and Simona Mononoke to have hosted all of us. To Riccardo's faithful students, endless thanks to Iroha Shizuki ( I love you), to all the people who came to Turin to attend to the performances and to Naka san's show. To Amaury Grisel the official photographer, to all my friends, to my beloved one who also came to see his first kinbaku show to understand me better…
Thank you Naka san, to have shared so many things, for always encouraging me, to be who you are. So amazingly human.
The last night, before we all leave, I told him that what I wanted to do was more than just being a translator. what I've always wanted to do on my path, since I started to study Kinbaku and for this community was to be a bridge between east and west ; to be a bridge that helps people to understand each other better, beyond any cultural limitations, a bridge between Japan and the world, because I was born multicultural since the beginning of my life. A bridge for love sake.
If only I could create more bonds…the ones that connect us from the heart.
kokoro.
This is what I want to do, in my way.
I feel grateful. My heart is full.
Thank you Naka san, Iroha san.
To all of you.
See you again.
It's a promise.
Sending you love.