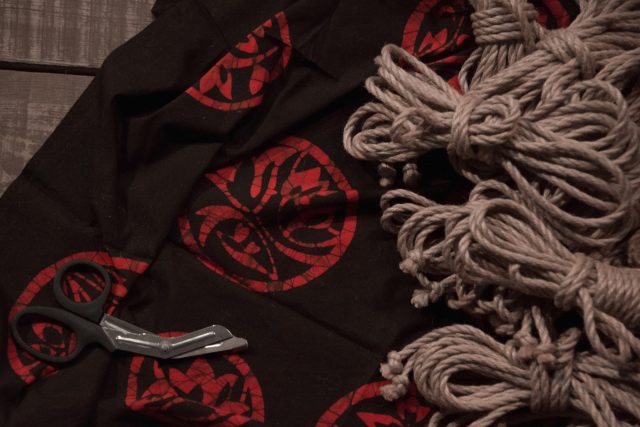 Surely kinbaku is getting more and more attention recently. It is getting little bit mainstream and popular, with shows, art galleries and even couple of music videos. You've seen them, you know what I'm talking about. More and more people wants to do that – women, because it looks fun and pretty; men, because – obviously – they wants to get women, and the feeling of being in control. There is not a lot of guys that started like me – with fantasies at young age about tying some girl to the chair, without even realizing there is such thing like kinbaku. But everyone from time to time forgets why we do what we do.
Unfortunately that's tendency in our culture. Our western minds love intricate patterns, problem solving, learning new things. We have a high concept culture, where complexity proves greatness. We tend to think, knowing as much positions and different ties as possible proves the level of the rigger. We spend a lot of time learning all of that, and of course learning names for all of those ties, just to show others the vast amount of knowledge we have to share. Or in that case – trade – for being acknowledged as superior. But in all of that we tend to miss the point of what bondage was in fact invented for.
Yes, I mean, every kind of bondage. It does not matter if it was eastern or western, traditional or not, the whole point of bondage was restraint. For specific reason. For play. Bondage was not invented for beautiful pictures. Not in the beginning. It was not invented to brag about how many styles or ties you mastered. It was created for yours and your model's pleasure. For beauty of the moment and effect of restraint.
Why are you doing it?
The reason kinbaku is so compelling is that it mesmerize you on many levels. On the surface, tied woman, naked even so, looks simply beautiful. Tying also requires manual skills and knowledge. And bondage of course is associated with sex. That all put together inspires aesthetically, technically and mostly sexually.
But bondage does not come without risks. You could consider it an extreme sport, even with great expertise, there are always risks. Just like mountain climbing or sky-diving, even when taken necessary precautions, there is always slight chance of contusion or death.
That danse macabre is what drives us. Adrenaline, emotions, danger, this is what makes people feel alive. This is how we have been made – to survive, endure, challenge ourselves. All of that is underneath initial interest.
But what makes it deep and intimate experience comes back to it's initial purpose. A form of communication, that can use rope, body language and look in the eyes as a medium to tell a story or a feeling. That can be achieved only when you have a connection between two people. This is what adds just another layer of meaning and complexity to this form of expressing yourself.
For me, it is also a way to indulge my voyeurism fetish. At some point of my journey, I realized, that I enjoy observing women in ropes. Not just how they look, but most importantly, how they feel about it. I love to watch how they struggle, or drift away in mixed feeling of pleasure and suffering. I even developed a fetish of crying woman in ropes. Crying out of being ashamed, or position being hard, out of love or even feeling unworthiness. Reasons can be very different. I have a feeling of satisfaction and fulfillment from watching reactions rope bottoms have from being tied. And this is the very reason why I tie and a benchmark on how I select my rope partner.
Same goes for the reasons people tie, and emotions they feel about being tied. Meeting many different riggers and rope bottoms, gave me huge perspective on what makes them tick. It made me realize that there are as many approaches as there are people. Some of them enjoy themselves in privacy of their apartment, some enjoy more audience.  But what makes difference between good session and great session, is the reason – why you tie – and the target – are you doing it for yourself.
This is exactly why your style and pattern you tie does not really matter at all. If your technique is good enough, as long as you know what is in the heart of your bondage, it will translate to communication and emotions. As long as you have an open connection with your bondage partner, he/she will understand what you are trying to say.