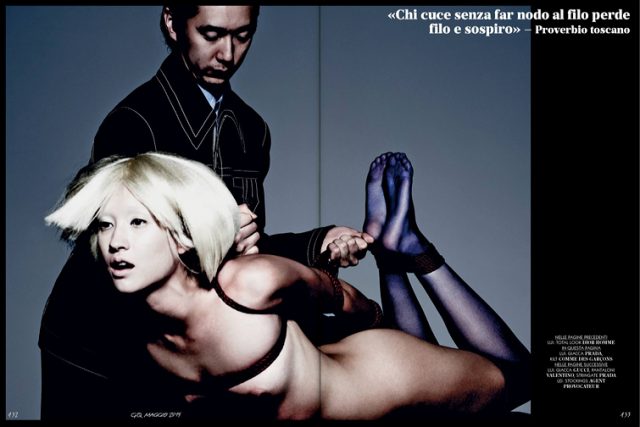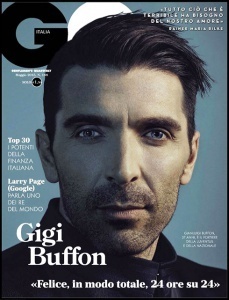 I have been extremely lucky in life.  For reasons unknown to me, I have had the opportunity to meet people I never imagined I would ever come face to face with.  One day in Aspen, CO, I was seated next to Sandra Day O'Connor, the first female justice on the Supreme Court, for lunch.  I mean we weren't just at the same lunch, we were sitting next to each other and talked for a couple of hours about all sorts of stuff.  Nice woman, Sandra.  I have dozens of stories like this.  Artists, musicians, TV and movie stars, tech world superstars.  Right place, right time, I guess.
My point is not to brag, but simply to make the point that I don't get star struck easily.
Last week, I met Michel Comte at the LACMA Cafe with Master K to talk about rope.  I had a sense of who he was and was excited to meet him and work with him.  We talked for an hour, but I found him very hard to read.
We showed up early to the shoot.  We were there to do rope, to take direction and stay out of the way.
The studio is amazing.  Everything is first class.  The lights are ProFoto, the camera and lens, Hassleblad, professional riggers setting up our hardpoints, and a cycwall 30 feet high and 50 feet wide.
And then we see Michel.  He is creating a mood board of images.  He invites us over to help give us a sense of what he is trying to do.  As we talk, it becomes clear that we share a similar vision, that we care about the same things and that we understand the references he makes.
The more we talk, the stronger the connection becomes.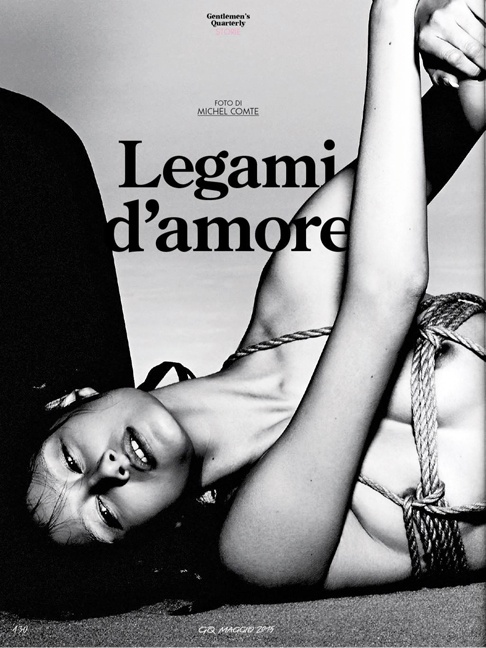 The models are in hair and make up for hours, so there is nothing much to do but talk.
By the time we are ready to shoot, I have a sneaking suspicion that I may be in the presence of an artistic genius.
Once we start shooting, it is confirmed.  Everything about the process is amazing and the results are stunning. We see them in real time, edited in real time, popping up on monitors.  He gets the one he wants and they print it out and put it on the board.
The day has begun.
We shoot all day and by the end of the day he gives us a great compliment.  He tells us to tie how we like, he gives us no direction.  He trusts us to collaborate.
He also invites us back, quite unexpectedly, for a second day to shoot with him.  We all cancel as much of our plans as we can and free up the day to be at the shoot.
This shoot is far less formal.  The models are his wife, Ayako and Ruby Stewart, Akako's friend and muse.  We are shooting rope pictures for Interview Magazine and Ruby will be interviewing Ayako about The Girl from Nagasaki, a new movie she and Michel have done.
We get to know each other much better.  Michel's passion and vision are incredible.
I am fascinated to watch him work and truly inspired.
Finally, I get up my nerve and ask him timidly if I may ask him a question to which he smiles and says kindly "of course."
I ask him about composition, about how he chooses how he frames his images, many of which violate the "rules" of classical composition.
"Everything must be beautiful.  The model, the hair, the background, the rope, the dress.  It must all be beautiful," Michel says.
He explains a bit further, talking about feeling and inspiration and emotion.  And then he says something I will never forget because it distilled the entire experience of the week into a single phrase.  He says, "I want to take the picture that no one has ever seen."
He turns to his inspiration/mood board and waves his hand, "These have all been seen," he says.
At that moment, it all makes sense.  Every single thing he is doing and why he is doing it that way.  He wants to create and capture the thing that no one has ever seen.  I will be reflecting on that for some time to come.  What does that mean?  How do you do that?
It is easy to shoot in someone else's style.  I think every photographer starts that way.  It is a technical exercise, trying to understand how to bring the elements together (light, pose, camera setting, processing) to look a certain way.  Once you have the technical aspects down, you move to the next step, making your vision a reality.
This is, for most people, the end point.  The ability to take what is in your mind and put it on the screen.  To make your vision reality.  Watching Michel, I realized there is another level or at least a different level.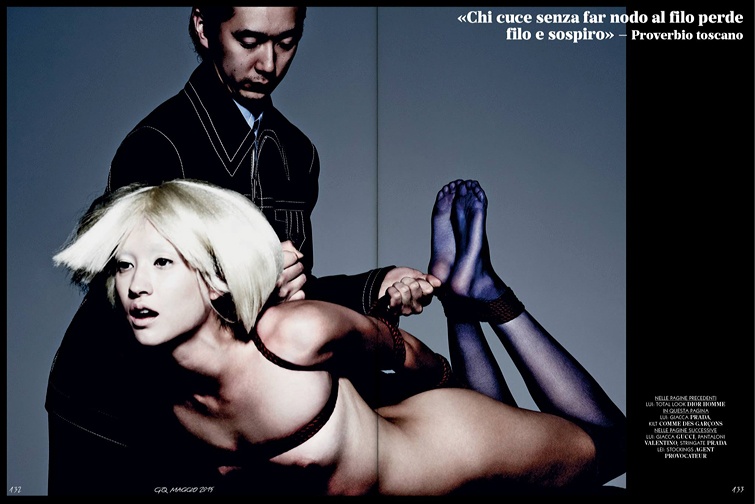 I suspect that to take a vision and turn it into a picture would not be enough.  In a way, that too is a picture that has already been seen.
The true magic happens in an instant and disappears.  If you are lucky enough to catch it, you create that photograph no one has ever seen before.
By the end of the shoot, Master K was referring to Michel as Maestro.  There was a sense of orchestration that was simply amazing.  Like the conductor of a symphony, Michel was able to create a moment to capture, not because there was a single vision he sought to make real, but because he was able to bring elements together and out of infinite possible combinations capture something when everything had become beautiful in a way that no one has ever seen before.