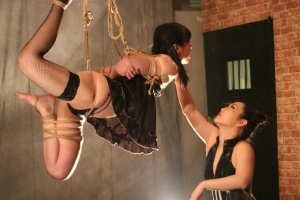 This Fall, London will once again play host to an amazing collection of talent, performances, classes, and rope camaraderie.  The London Festival of Rope Art, produced by WykD Dave and Clover will also feature the rope artist Towa in her first event held outside of Japan.  In addition to performances, the festival includes an impressive line up of classes from some of Europe's biggest names.
The London Festival of Rope Art 2015 is a celebration of the art of shibari, featuring performers, teachers and artists from all over the world, with the aim of promoting cultural exchange and internationally cooperative learning.

Presenters are chosen for their skill, reputation, and passion. We want to showcase the many facets of shibari, bringing to life its meanings through the distinct styles of the presenters. We will bring together devotees of this art for three days of intensity, emotion, and magic.

This year's festival will feature renowned performers and artists from around the world. This festival sponsors and facilitates workshops, presentations, lectures and demonstrations from our international guests.

In addition to performances the festival will feature exhibitions of drawing, painting, film and photography.

Be prepared for an amazing event in London that you will remember fondly for many years to come! This is not one to miss.
Some highlights include:
A five day Masterclass workshop with Towa, 28th Sep to 2nd Oct (5 days)
A Two day workshop with Wildties, 28th & 29th Sept (2 days)
Classes taught by JackWhipper, Fred Hatt & Miss Bones, Shibaricircus, Towa, 

Sansblague & Bergborg, Wildties, Dee Lu. Jester, and WykD Dave.

Performances by top rope artists from around the world (see the line up here)
Festival tickets have been going exceptionally fast. The early-bird tickets and singles tickets have already sold out. Only a limited number of tickets remain!