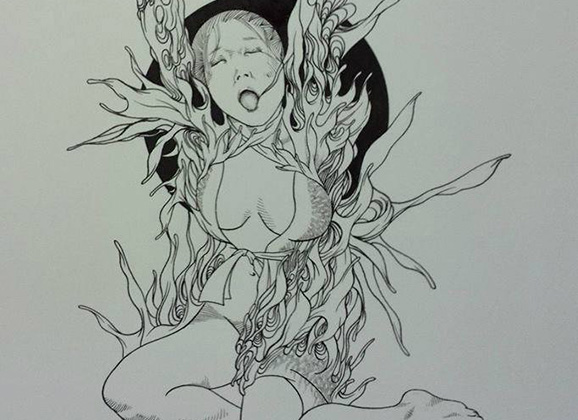 Hi, guys! I'm Aki, an ordinary housewife but rope-slut living in Tokyo. I would like to offer you a sneak peek of my kinky kinbaku diary for your interest. Enjoy it!
One day in the afternoon…
After finishing my part time job, I rushed to the subway station to go to Shinjuku. After few minutes walk from Shinjuku Station, I arrived at Kabuki-cho.
Rat-a-tat…I knocked the door of Mitsu. After a while, Yoi-san opened the door. Yoi-san is the one of the most famous female rope artists in Japan, and ls running two SM bars "UBU" and "Mitsu" together with Bingo-san in Kabuki-cho.
Today , I was supposed to have a meeting with her regarding her performance in the coming annual event "O-Nawa Asobi" (meaning kind of "Grand Rope festival"). Yes, I am very honor to serve her partner in the event. Yoi-san started "O-Nawa Asobi" 2009, and in this year, it will be held on 22 & 23, November in "Roppongi Club" (and I promise you a report from the event in this diary).
We discussed the costume that I will wear for the event and Yoi-san let me listen to the music she selected for the performance. I didn't know the music, but it was so good.
While listening the music, Yoi-san started to tie me up. I always feel her deep affection while being tied by her. She never speaks during her tie. I don't either. But, we profoundly communicate with each other through ropes. That's why I'm crazy for kinbaku.
I don't know how long she was tying. Probably about 1 hr. She was untying the ropes from my body one by one. I missed the ropes but was fully satisfied.
My hours of bliss were over. Now, time to think of the menu for tonight dinner. On my way to my home in subway, I turn off my sub-switch and turn on my housewife switch.
That's the daily life of Aki in Tokyo.
A few images from the day: