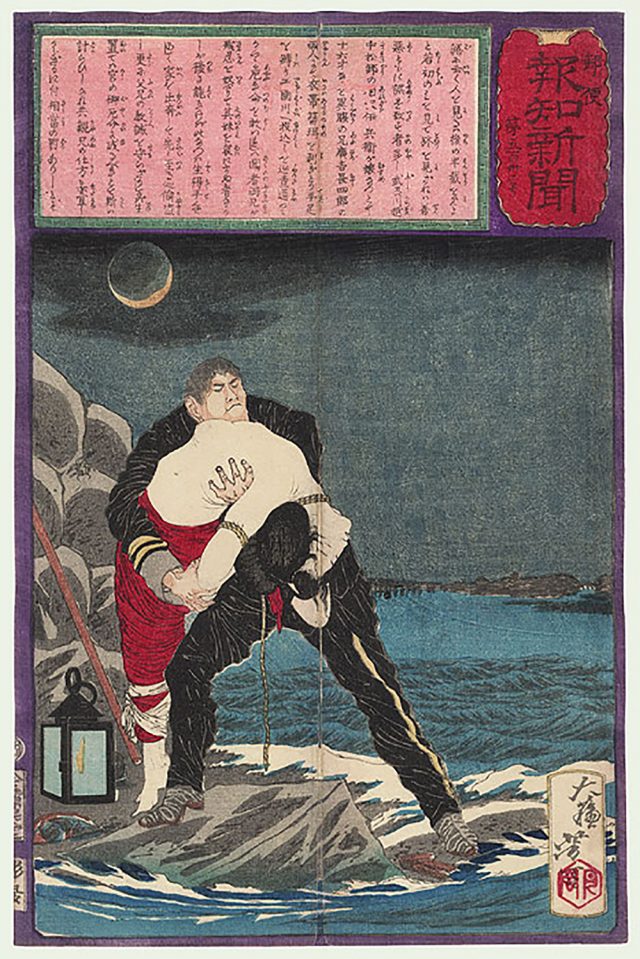 Policeman Rescuing a Young Woman from Being Drowned by Her Brothers, Who Were Offended by Her Delinquent Behavior
Notable for both the use of rope and the sense of eroticism in the scene, this print is one of many images by Yoshitoshi that demonstrates the use of rope in Meiji era Japan.
This dramatic image is from a series of supplements that Yoshitoshi created for the Yubin hochi shinbun (Postal News) daily newspaper from 1875 – 1876. Often sensationalistic, these woodblocks depict contemporary events in the news, including murders, robberies, and assaults, as well as suicides, fires, natural disasters, battles and campaigns, and even supernatural occurrences. Many of the subjects are violent or even gory. Drawn with realistic detail and lively color, each illustration is accompanied by a story in a text panel above. These bold designs are rarely seen, and offer an intriguing look into the daily life of Meiji era Japan.
Artist – Yoshitoshi (1839 – 1892)
Image Size – 13 3/4″ x 9 1/4″ + margins
From the collection of Zetsu Nawa