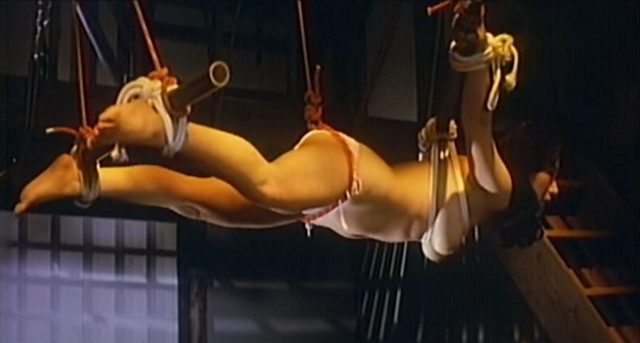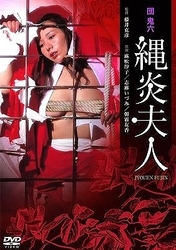 Those who follow the history of SM in Japanese popular culture are undoubtedly aware of the legendary Roman Porno actress Naomi Tani.  Roman Porno was a genre created by Nikkatsu studios to produce erotic films for mainstream release. The productions ran from 1971 to 1986, before coming to an abrupt end.  Two years into production, Nikkatsu created an S&M division, based almost exclusively on the short stories of Oniroku Dan. Naomi Tani was the first actress that Dan hired and she started in some of Nikkatsu's most famous films, including Flower and Snake (1974), Wife to Be Sacrificed (1974), and Fairy in a Cage (1977) and was famous for her physical stamina and her traditional and classic beauty.
In 1979, Tani retired, famously remarking "I never wanted to disappoint my fans by showing an unflattering face. That's why I've always refused to do a comeback. Nobody is free from aging. I want to exist in the audience's memory as a forever blooming flower."  According to Oniroku Dan, Tani retired in order to marry after starring in 15 S&M films for the studio.
Following in her footsteps was a young actress named Junki Mabuki, who would take over the reins as Nikkatsu's new Queen of SM in 1980.  She had come to attention of the studio after winning 3rd place in their "Fresh Faces" contest and received the approval of Oniroku Dan to become the new star of Nikkatsu's Roman Porno films.  As with Naomi Tani, Oniroku Dan also began a personal relationship with her.
As he described her in Season of Infidelity, Dan wrote that "Junko was a Sophia Loren type, with an overpowering sexuality that drew rave reviews."  Unlike Tani, who frequently appeared in traditional Japanese clothing, such as kimono, Junko's appearance and energy was better suited to more modern apparel.  "Her body was so voluptuous she never wore a kimono in any of her films; they didn't suit her curvaceous figure at all," Dan wrote, "She looked far more becoming in Western-style evening wear."
She would work closely for the next few years with Oniroku Dan, starring in many of his films released between 1980 and 1981.  Of Junko Mabuki's demeanor, Dan remarked "If Naomi Tani was Marilyn Monroe, Junko Mabuki was Ingrid Bergman."
In a two year period (1980-1981), she would star in ten films, mainly Oniroku Dan titles "playing roles like female teachers, nurses, secretaries, even international airline stewardesses" all of which would become iconic wardrobe for the bondage and SM magazines of the 1980s.  Ultimately she would retire in 1981, unable to maintain the pace and rigorous demands of shooting SM films and would be replaced by Izumi Shima, the next of Nikkatsu's SM Queens.
Junko was called 恥辱の肉獣, or "meat beast of shame" as she was known for enduring particularly intense scenes.  As Dan explained, "All of her sex scenes involved crying while being scolded or reprimanded."  It was important that the actress he chose not be too enthusiastic about being bound.  His viewers, Dan argued, "get excited seeing a beautiful actress tied up and disgraced.   If the S&M films featured some plain Jane–no matter how into bondage she was–it wouldn't have the same impact, and wouldn't arouse the viewers as much."
According to Dan, "none of Roman Porno's S&M Queens, even Naomi Tani, were particularly interested in bondage," but each brought a professionalism and enthusiasm to the job which made them easy to work with.  "I never had to teach them anything," he wrote, "even if they were in a foul mood, they'd let themselves be tied up for a bondage scene without complaint."
Even if she lacked a particular desire for bondage and SM play, Junko possessed a sexual energy that was at times overwhelming. "She was so energetic and full of vigor." Dan recalled, "that in film scenes where a man who was supposed to be tying her up and torturing her he would end up overwhelmed by her tremendous energy and tortured and worn out himself."