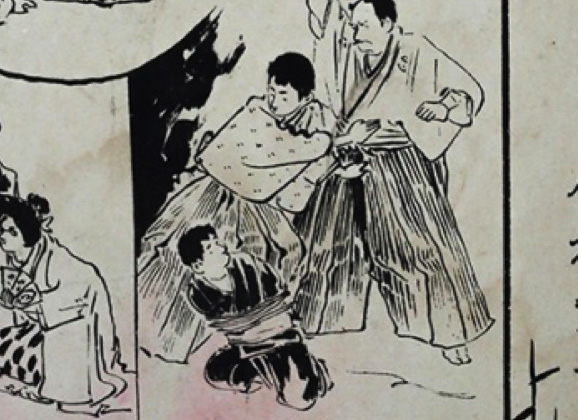 Before cinema took its place in major entertainment for citizens after WW II, theater plays had been occupying its top position since Edo era. In the late 19c to 20c, in Tokyo area, there were three officially permissioned big theaters. In addition to the big three, there were lots of small theaters (which were not illegal but had many restrictions based on size and equipment by law). In these small theaters, people enjoyed not only traditional Kabuki but also modern plays in 19-20c that were performed by many theater groups.
Big theaters announced their programs through newspapers, however, small theaters employed posters for their primary promotion because of their small budget. "Tsuji Banzuke"(辻番付, 辻番附) were wood printed theater posters in which scenes of plays were sequentially depicted so that people could get a whole story at a glance. It was posted at public baths, barbershops etc. where people gathered.
In all ages and all cultures, erotic elements are a fast and easy way to attract audiences and it seemed that small theater groups prefered to incorporate "torture" or "shibari" scenes in their plays and in their "Tsuji Banzuke", especially around 1897-1904.
Seiu Ito, the father of kinbaku, has started his "research on Seme (torture)" by collecting these "Tsuji Banzuke", just like as nowadays high school students secretly steal posters of AKB48 from trains. Seiu was just an apprenticeship of burinist in the mid 1890's and his tiny salary did not allow him to go to the theater so often. He enjoyed these stories by looking "Tsuji Banzuke"
His enthusiasm for plays led him to debut as a "Tsuji Banzuke" artist around 1906. He drew posters and billboards for small theaters such as Ryusei-za, Kaisei-za etc., where he found his first shibari partner, Katsuji Hosono (who was actor of female roles in a small theater group).
Later, he started to draw billboards and to design stage settings for big theaters. He has also established his fame as theater critic in the late 1910s.
The first picture of this blog shows the poster for a play in Ryusei-za on November 1906. It was a modern play based on the novel of Charles Dickens. Although there is no signature of Seiu on it (he started to identify himself as "Seiu (晴雨)" on 1918), the brushstroke unambiguously indicates that it was his work. We can see a Seme scene in it.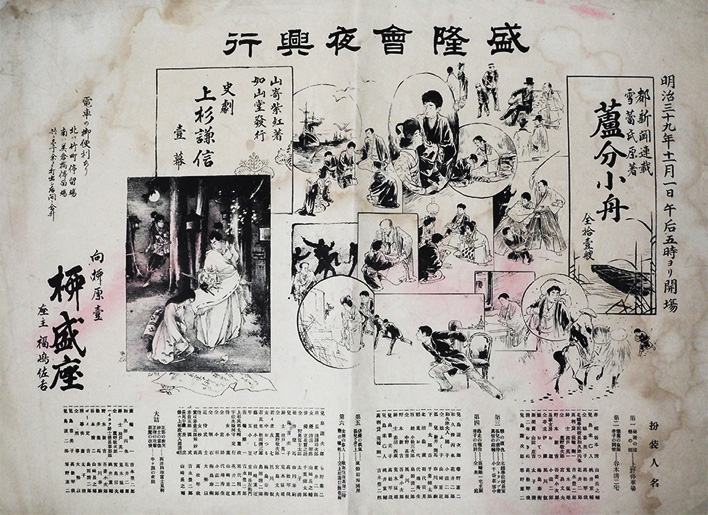 The second picture was the one that appeared in July 1953 issue of Kitan Club, in which Seiu wrote his essay about "Tsuji Banzuke". It is supposed to be a "Tsuji Banzuke" for a play in Ryusei-za on June 1903, however, it seems to be a replica work that Seiu drew for Kitan Club based on his memory.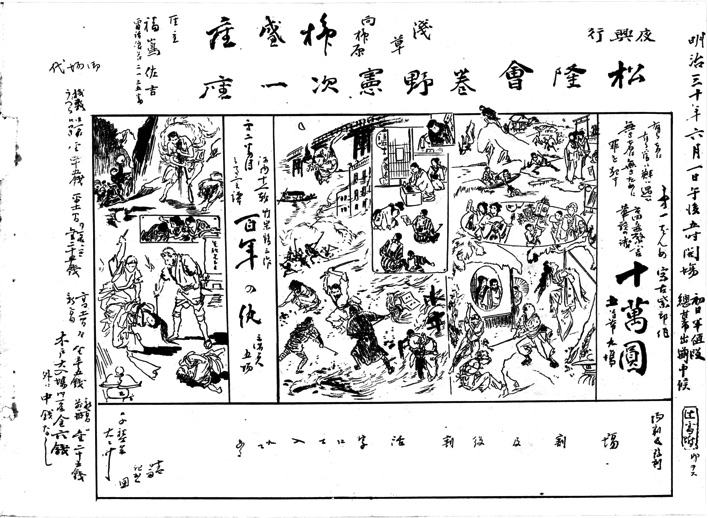 Visit Tsuji Banzuke" in SMpedia.